Good news for fans of Blizzard Entertainment's game Overwatch, as NVIDIA has reportedly announced that one of their most useful technologies, NVIDIA Reflex, is available in Overwatch's Public Test Region.
With this feature technology, players don't need to be afraid of having high latency, which will hamper the game again because the NVIDIA Reflex feature can significantly reduce latency, which will certainly allow players to play smoothly.
Not only does it reduce latency in games, but this NVIDIA Reflex technology can also reduce the latency that enters the keyboard, mouse, and other controllers into the game. Thanks to this, you will get good reflexes when fighting enemies.
VIDEO: Overwatch Getting NVIDIA Reflex Support
Also, as the name suggests, the NVIDIA Reflex feature itself can only be used for devices that use NVIDIA graphics cards. So, if you have a graphics card from AMD, then you won't be able to use this feature.
What's more, it looks like this feature only works for the GeForce T-Series too. As you can see in the comparison below, the comparison between NVIDIA Reflex and not using NVIDIA Reflex is very different. In fact, if you look closely, the average latency performance users will get around 50%, for GeForce 10, 20, and 30 series graphics cards, according to a post made by NVIDIA GeForce on March 12.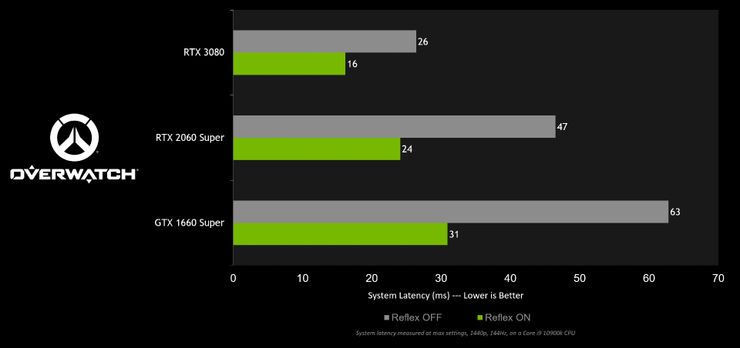 For additional information, you have to manually activate the NVIDIA Reflex itself in the game options menu when accessing PTR. Not only that, this feature will only be available if players have updated Overwatch on March 11, 2021.