Unlike other RPG games set in a monster world craft, there are guns in Biomutant. Indeed, you could say this is a little strange considering that RPG games are supposed to use swords and the like mostly.
However, this is what makes this Biomutant game unique and fun to play. So, because many people like this game, that's why Wowkia will also share various information related to Biomutant with you.
Speaking of guns, surely there are those of you who don't have this weapon. Well, if so, that's why I will share how to make guns in this game properly. Read the explanation below so you can make it without mistakes.
Craft Guns in Biomutant
To make guns, you only need to go to the main menu and then go to the "Craft" tab. Here, later you can assemble the various weapons you want. However, as an example, I will tell you how to make a long-range weapon.
An example of the weapon we use is the Purfpew Pusttwiff, one of the most popular long-range weapons. To make this, you need various materials which you can see in the photo below. After getting these materials, all you need to do is go back to the "Craft" tab, then create a Purfpew Pusttwiff.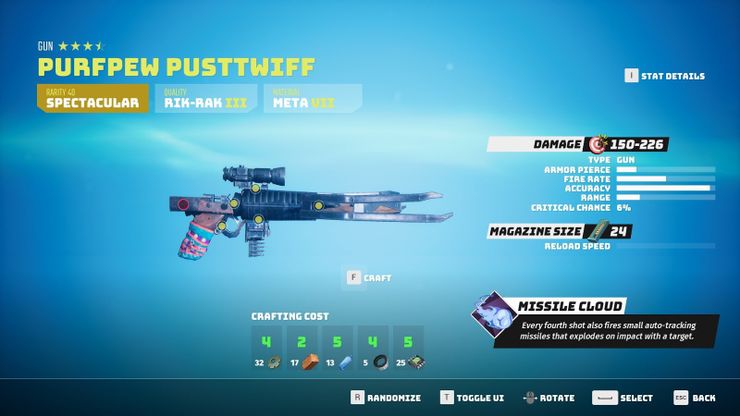 When you have finished making it, there will be a slot for additional spare parts for this weapon. You can also add spare parts if you want to make Purfpew Pusttwiff stronger and easier to use. What's more, this weapon itself is a long-range weapon. So, make sure you add the spare parts so that the Purfpew Pusttwiff becomes an even better weapon.