Disney and Marvel Studios have a lot of homework for many upcoming projects, including how to bring in and introduce a new cast for a new movie or Disney Plus show. The company also has to consider what fans want to do as they do the casting.
The greatest actors and actresses have appeared in the MCU, following Angelina Jolie in The Eternals, then Ethan Hawke and Christian Bale as villains in Thor 4. The company knows what it's doing and is able to make these actors comfortable under its wings.
Will Simon Pegg Join the MCU for a New Role?
There are still plenty of actors the MCU can bring in on its own, perhaps to satisfy fans all at once or take them for a long time. While a lot of potential are able to bring a lot of actors out there to touch MCU projects, Simon Pegg is also involved as one of the many rumors as a new MCU actor to come.
Simon Pegg is likely to play a role in the yet-to-be-made Ant-Man Wright film. But the guy we're referring to here and explaining it's hard for him to join the MCU.
When he was in an interview with Newsweek, Simon Pegg talked about his feelings about potentially joining the MCU. Pegg stated that he wants to "do more adult things in the future," which in this case means he wants to "do more drama.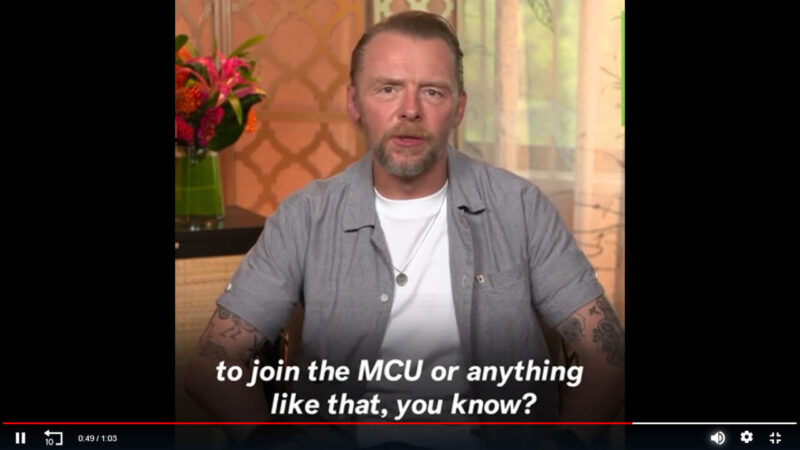 He also explained that he was feeling the rush to join the MCU right now, and on the side of Ethan Hawke commenting about Marvel Studios also stopping locking talent into long-term contracts, this made it difficult for Pegg to land long-time position roles.
As we know, the actor has some experience with superheroes, however, following the series The Boys by Amazon Studios. However, he was able to get a contract to do something in the Marvel universe at one point or another. Do you want him to get a part of the future of the MCU?