In the Grand Theft Auto game, You are given a mission to use the RC vehicle sometimes. RC vehicle is the abbreviation of the Remote-Controller vehicle. In the new update of GTA V Online: Diamond Casino Heist, you can use the RC Tank now.
Many person searches on how to get RC Tank in GTA V and Wowkia will explain all about this vehicle guide.
---
What is the RC Tank?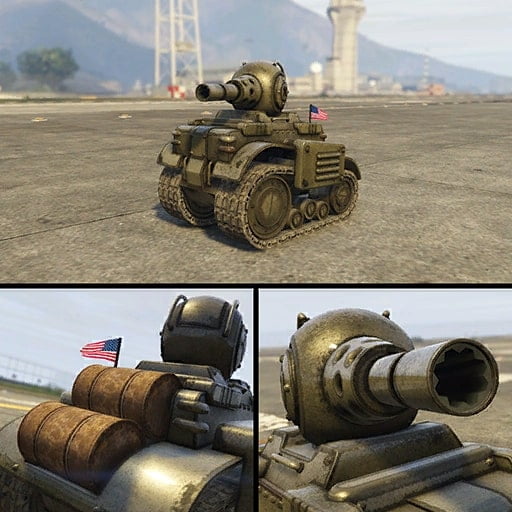 In fact, arcade minigame Invade and Persuade II be the interpretation of this tank. If you look more carefully, the tank is so similar to SV-001 from the Metal Slug series.
In addition to its capabilities which are very similar to military vehicles, RC Tank is also equipped with the weapons below:
Machine Gun: The main weapon of the RC tank is Machine Gun the same type as a weapon on the Insurgent Pick-up, but the fire-rate and range lower.
Flamethrower: This weapon makes RC tank can shoot a flame.
Rocket Launcher: Similar to normal-sized tank, the Rocket launcher can shot the rocket for blow up on a certain distance.
Plasma Cannon: Like the name, Plasma Cannon can give the Future Shock and less damage per shot. We don't recommend you use this weapon frequently because the enemy can be easy to find you.
---
How to Get RC Tank in GTA V
Log in on December 25th, 2019 to receive a totally free, fully weaponized, definitely dangerous, Invade and Persuade RC Tank. But if you miss it, you can still purchase the RC Tank for $2,275,000 from Warstock and Carry. You just need send a request via Interaction Menu.
You maybe need to earn a lot of money, so we will give you tips on Make Money in GTA V. Running casino business with buying an arcade in Diamond Heist updates also can make money quickly in this game.
---
So, that's how to get RC Tank in GTA V Online. If you looking for any other GTA V / Online tips, keep following us and leave a comment below.