Have you ever played GBGW or Gundam Breaker Mobile? For some of you who are fans of Gundam and Gunpla, like me, I believe you have. The game is not that good, but I mainly play it for making my own custom Gunpla. The protagonist in the game uses a custom Gunpla named Gundam Artemis and Gundam Areus.
The side characters also use some good looking custom Gunpla (better than New Gundam Breaker). Protagonist's rival Touma and Rindo use Code Phi and Enzian. Meanwhile, the protagonist's love potential, Sana Miyama, use a more cutesy Gunpla named Sanakapool.
Gundam Breaker Mobile Custom Gunpla
Gundam Areus
Gundam Areus is a kitbash from Destiny Gundam, Gundam Double X, and Gundam F91. It's pretty good looking, not gonna lie. However, Bandai has yet to made a kit out of Gundam Areus.
Here he used HG Destiny Gundam and HG Gundam Double X. He was not using Gundam F91 for the arms, instead he made a custom one from Gundam Double X. As for the backpack and wings, this is where things get twisty. Since Gundam Areus is using Destiny Gundam backpack with the Metal Build design, he had to made one from scratch. He also made a custom joint to mount the Double X's Twin Satellite Cannon.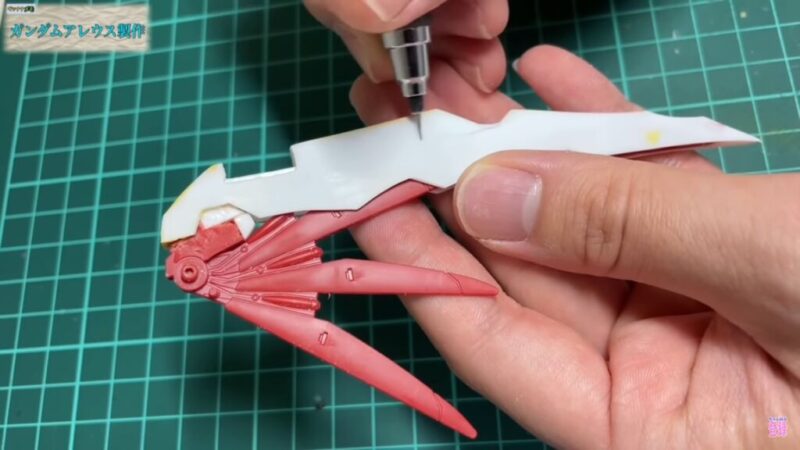 The result is just *chef's kiss*. It is amazing and beautiful, but I guess he didn't made the weapons, the Coupled Arondight and the custom rifle. This is because he was not showcasing it in the video. Nonetheless, it's a solid work of Gunpla Building.
Gundam Enzian
Next we got Enzian, Rindo Kuzunoha's Gunpla. This one is a kitbash from Force Impulse Gundam and Wing Gundam. I guess this one was not as complicated as Areus, but still, it took skills to made this. It's pretty straightforward, he was only tweaking the joints from the shield, rifle, and head.
Then, instead of painting it in the original Enzian color (white and purple), he painted it with grey and smoky purple. The result is amazing to say the least, and I think it looks better with this color.
Code Phi
This one is Touma Aizen's Code Phi. It was made using Gundam G-Self (Atmospheric/Perfect Pack) and Deathscythe Gundam's Scythe. It's pretty straightforward as well, you only need to assemble it, tighten some parts, and put the Perfect Pack shoulder, then paint it. The harder thing was making it's Banshee-like horns.
More of these…
You can check the guy's other work at his YouTube channel. He also made Sanakapool and Artemis. The only drawback of his content is no english caption. But, I think he made the video rather clear in case you want to make one yourself.
Tell me in the comments, do you like contents about Gundam and Gunpla like these?