Long before Ms Marvel was released, there were various versions of this character in everything from comics, games, and also animated series. All of them have their own uniqueness that makes them look unique, including the changes in their abilities.
As we know, Marvel Studios has a lot of creative initiatives for changes for each hero they have but also has creative ideas on how they build all the character stories.
For our entertainment, Disney and Marvel Studios have introduced a number of new big heroes to the big screen in Shang-Chi and The Legend of the Ten Rings, Eternals, and even Doctor Strange in the Multiverse of Madness. Because of that, so many happy people came even previous Marvel fans. You can also see this in every new trailer for the MCU film.
The hype has continued to grow over and over again, and it's made its biggest start in the Spider-Man: No Way Home trailer. In 2022, the MCU continues the trend on Disney+ and for the second time, a new hero gets his own series with Ms. Marvel. But before watching this one, you should take a look and read what we recommend, this is also a source from Disney itself.
So, what do we need to know before Ms Marvel series the ongoing on Disney Plus right now?
What You Need to Watch and Read Before Ms Marvel Series on Disney Plus
In the live-action adaptation, Ms. Marvel is set in Jersey City, New Jersey, and follows sixteen-year-old Avenger superfan, Kamala Khan, as she gains superpowers of her own while juggling her family, friends, and future.
The character named Kamala Khan is played by Iman Vellani and will have a six-episode series that is expected to be a sequel to Captain Marvel, The Marvels, starring Brie Larson. Until this article was released, Ms. Marvel had only gotten two episodes.
But if you haven't watched the first episode, or you're still waiting for all the episodes to end, you'll see suggestions for knowing about Kamala Khan long before touching the series.
Reporting from thedirect.com, it turns out that ahead of the debut of Episode 1 Ms. Marvel at Disney+ before June 8th, Disney compiled a list of related projects that fans should see and watch before the Disney+ premiere.
This list includes everything from Kamala's introduction in the comics to video games and a few things to watch that might hint at what's to come? Here's what Disney recommends:
1. Ms. Marvel (2014-2015)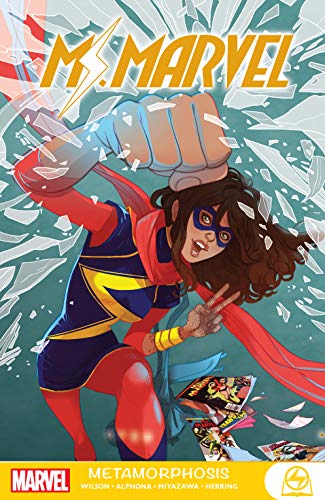 About 5 years ago, there was a comic book by Sana Amanat who is now the co-executive producer of Ms. Marvel at Disney Plus. The comic has a similar title to the one we see today on Disney Plus, the comic from Kamala Khan Other partitions for this also include Stephen Wacker, G. Willow Wilson, and artist Adrian Alphona.
Despite his short tenure, Kamala quickly became one of Marvel Comics' most popular characters and the first issue of the series hit a rare seventh print. In this comic, MCU fans can see why fans first fell in love with this character, as well as the original power set that has been adapted for the screen.
This can add to your insight Before Ms Marvel series on Disney Plus, make sure you know what's going on there, or become friends while waiting for the next episode.
2. Ms. Marvel (2015-2019)
Then, in the same year, there was another comic book as a sequel, the comic Ms. This Marvel explores Kamala Khan's journey after becoming an Avenger and finds out if it was fun or what she expected. This can add to your insight Before Ms Marvel series on Disney Plus, make sure you know what's going on there, or become friends while waiting for the next episode.
If we pay close attention, maybe this is a reference or a source adapting the story. If we watch the show, as a viewer we will probably see elements of this comic book storyline played out in live-action.
3. Avengers: Ms. Marvel's Fists of Fury (2017)
As many people say Marvel is fun for kids, here's the proof. For younger MCU fans, Ms. Marvel's Fist of Fury is a book aimed at readers ages 8 to 12. This story focuses on the origin story of the superhero Kamala with Thor, the God of Thunder, as his mentor.
4. Spider-Man (2017-2020)
If you think Spider-Man and Kamala Khan look good together, it happened to the Disney+ animated series Spider-Man in the episode titled "School of Hard Knocks."
Tells the story of Peter Parker destroying Kamala's solo mission, but after that, the two as the same school superhero work together to free the Avengers and it seems the webhead may have a crush on Ms. Marvel. This can add to your insight Before Ms Marvel series on Disney Plus, make sure you know what's going on there, or become friends while waiting for the next episode.
For you Spider-Man lovers, we recommend watching this animation as your weekend entertainment. In this animation, you can see some references to Tom Holland's Spider-Man trilogy which has been compared to Spider-Man: Homecoming.
5. Marvel Rising: Secret Warriors (2018)
Another animated recommendation for you MCU teen fans, this feature-length film from Marvel Animation premiered on Disney XD and features a team of Marvel-powered super teens. You can meet Ms. Marvel, Secret Warriors featuring Squirrel Girl, Quake, Patriot, America Chavez, and Inferno.
More specifically, Sana Amanat as co-executive producer for Ms. Marvel at Disney Plus is also producing this project. As was the case with the MCU version, Eli Bradley's Patriot was introduced in The Falcon and the Winter Soldier on Disney Plus in 2021, and America Chavez just made her MCU debut in Doctor Strange in the Multiverse of Madness.
6. Marvel's Avengers (2020, 2021)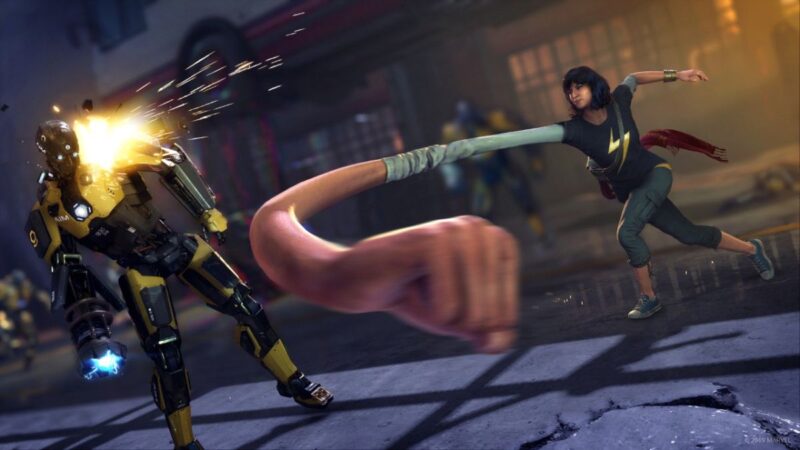 This one is not an animation, but a video game. Titled Marvel's Avengers, which was launched in September 2020, it tells about Kamala Khan as an important character who plays an important role. If you want to play and use the character, you can start as Kamala while she is being chased by Advanced Idea Mechanics (AIM).
For now, Crystal Dynamics Developers are also adding costumes based on Ms. Marvel, allowing players to experience the game with some of the MCU's flair.
7. Ms. Marvel: Stretched Thin (2021)
In the graphic novel Ms. Marvel for these middle-class readers, something goes wrong when a lab explosion results in Kamala's doppelganger, problems with her powers, and some strange happenings. This can add to your insight Before Ms Marvel series on Disney Plus, make sure you know what's going on there, or become friends while waiting for the next episode.
8. Ms. Marvel: Beyond the Limit (2021-2022)
And now, there's also another comic called Beyond the Limit which has the same story as Stretched Thin but isn't necessarily aimed at a younger demographic. All versions here may be referenced individually from the live-action adaptation series, or simply used for other versions in the Multiverse later in the future.
---
So, you already know what things are important to see in the Before Ms Marvel series on Disney Plus, right?
What do you think? Either choose to see them all, or read the synopsis to find out. The important thing you should know is that this character can meet Spider-Man aka Peter Parker, maybe we can see that in one episode as fan service, maybe.