It is just a week since the massive update of Genshin Impact v1.4. Players can join the Windblume festival, playing some event, and get the rewards. But, the rumor said that miHoYo would present the Housing Systems into Genshin Impact.
Housing Systems is the feature that makes players can build their house and decorated it. The explanation maybe not be enough for you, so check more details in this article.
Housing Systems in Genshin Impact
According to a tweet, the leakers posted some image from Genshin Impact Beta. Players would choose a set location to build the house. There are several areas includes the hill, savanna, beach, and islands. To unlock the location, Travelers need the Realm currency.
Players can build the house in a different style. More types of woods can be used, such as Sanbrear, Birch, Bamboo, and dan Fir. After building the house, players can decorate it to be more elegant. You can input pets, posters, and many furniture. The expansion becomes bigger and wider in v1.5.
Would It Like a Crafting Game?
Look carefully, and you would notice the item has a rarity, right? Probably, the rarity show of quality or level of the item. There is the location icon like other materials items. In my prediction, that means you need to find and gather the required materials before crafting something in Genshin Impact Housing Systems.
If miHoYo is really inspired by simulator games like Minecraft or Roblox, of course, so many features will come in the next update. Otherwise, we have to wait for the official information from the Publisher. Reflecting on the previous game, Honkai Impact 3, it isn't the first time for miHoYo to introduce housing systems. So. you can expect more.
Related:
Travelers Can Visit Friend House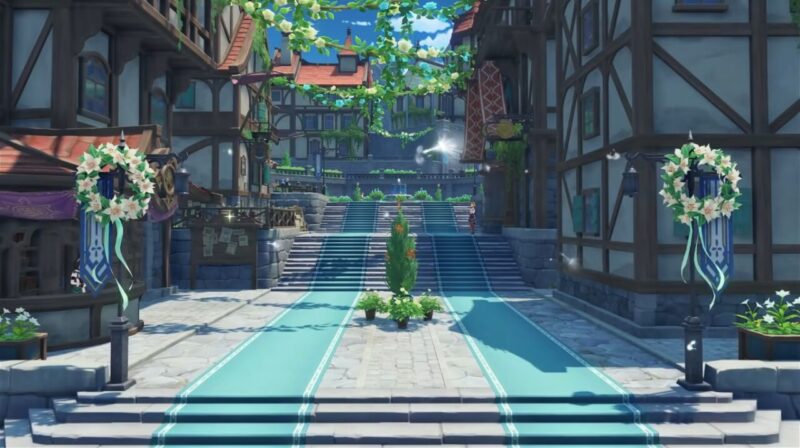 Even though it hasn't been confirmed, there is a high chance that other players will be able to visit your house. The reason is, Genshin Impact Housing System feature allows players to gather in one place. Of course, this feature will make Genshin Impact adapt to the well-known simulator genre.
This new feature just a rumor, so don't be salty and enjoy Genshin Impact v1.4. What do you think about it? Let's discuss this in the comment section. Don't forget to share and revisit us.