Like Marvel with the MCU, DC Comics also has the Highest Grossing DC Film with good quality. As we know DC Films is an American film production label that is a division of Warner Bros Pictures, if the Marvel Cinematic Universe is led by Kevin Feige, Walter Hamada is the current president of DC Films.
One thing that fans of the DC Extended Universe don't like is the continuity of the disturbing storyline from one film to another, even though we can see so many reboot characters played by different actors. It's also what makes Warner Bros. get a lot of potential risks.
Being the highest-grossing, also making the list we mean the most successful DC Movies? Come to find the answer. And of course, it doesn't suit you. What this means is that you may not like it.
10 Highest Grossing DC Film
With the risks taken by Warner Bros., one of the results returned that WB could not have imagined. And in fact, there's only a one-billion-dollar film in the DCEU, that doesn't even feature Batman or Superman. So which movies were the Highest Grossing DC film?
1. Aquaman (2018) – Most Successful DC Movie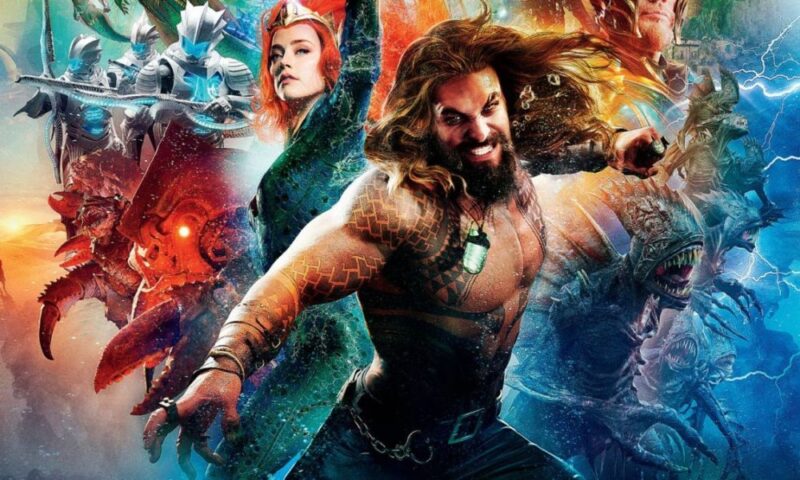 The biggest profit that Warner Bros can make with the DC Extended Universe is $1.148 Billion it is the first Aquaman film to tell its origin story and it was released in 2018. That's the biggest amount if we compare it with the budget. To date, this film has become the highest grossing DC film ever made and has succeeded in replacing the Batman versus Superman film.
Aquaman is the film that broke the billion-dollar barrier. What is certain for Marvel fans, is the response. As we've seen before, considering is always being ridiculed among DC fans for having ridiculous powers, looking ridiculous, and riding a seahorse.
But that's only for some Marvel fans, not all. And it turns out, that not a few DC fans are also doing it. Jason Mamoa could also be inherently charismatic and expert action director James Wan, Aquaman became the DCEU's biggest surprise hit.
This character will return again and may still be a big part of the Justice League. Do you think this film is included as the Most Successful DC Movie?
---
2. Batman V Superman: Dawn Of Justice (2016)

In 2016, before Marvel was successful with their 2 big projects, namely Avengers Infinity War and Endgame, and one month before Civil War was released, this one was first. However, the difference with this Marvel film is that many people hate it when viewed from the audience score and also the Tomatometer on Rotten Tomatoes.
And when the film was released, the audience was just confused and disappointed. The hype for Batman v Superman: Dawn of Justice was built over a decade earlier, as the poster in I Am Legend teasing the crossover was the one everyone was talking about the most after seeing the dystopian zombie film.
Unfortunately, Batman v Superman missed a golden opportunity to tell a better story. Many things being the reason for that, maybe if the two titular characters really faced each other for more than ten minutes, it would have a better chance of hitting a billion.
Even if it fails, this film can still be the highest grossing DC film ever to date, but at the same time, it makes Zack Snyder have problems with Warner Bros. However, did you like this film?
---
3. Wonder Woman (2017)

If you don't know who the female superheroes in the DC Universe are, introduce this one. Her name is Diana Prince and uses Wonder Woman as an alter ego. You can find out about his origins and everything about him, you can also meet a man who loves him and becomes something important in his memory.
When this character was introduced in the previous film, the hype built up for Wonder Woman's solo outing, and the results were pretty impressive. Being a period war drama and superhero epic, this is one of the best films made in this genre to date.
The reason why this one is listed as the highest grossing DC film is because of the total achievement that went up to $822.8 Million. It can be said rightly that this is the third most successful DC film ever made by Warner Bros.
---
4. Suicide Squad (2016)

Even though it failed, Suicide Squad, which was released in 2016 and then managed to get into one of the Highest Earning DC Movies ever made to date. This film makes David Ayer a bad director in the eyes of many people. A few years ago, Suicide Squad was one of the most exciting subjects for DC fans when it came to box office performances.
Unfortunately, the film became one of the most critical releases of the last decade and was even hated by fans, but somehow still managed to make three-quarters of a billion dollars.
One thing fans love about the film is that fans can see Jared Leto's portrayal of the Joker, but that doesn't help this get any better. Thankfully, it's still one of the highest grossing DC film ever made. The result of this film was $746.8 Million which could still save Warner Bros. from potential losses but had to find a new director for their next project using the same material.
---
5. Man Of Steel (2013)

The next highest grossing DC film is this one, the original story about Clark Kent but the DC film version is different if we compare it to comic books. Man of Steel still remains a fan favorite and remains such a memorable one. This one is also a must-watch for people who don't know why Superman has been around for so long on the earth.
This marked the first dark, gritty depiction of Superman, which was a risk at the time and this Zack Snyder creation has earned some hate due to some issues. Man of Steel's box office revenue of $668 million feels less than satisfactory considering that Superman is an iconic and world-famous character.
If we compare it to the iconic Marvel Cinematic Universe, it is Iron Man's rival. But in terms of strength and other things, Superman can be compared to Captain Marvel. For information, this film's revenue was lost to Marvel Studios which released a superhero film about a tree and a talking raccoon, but it could make more than $770 million, the irony.
---
Other Recommended Discussions About Superheroes Movie:
---
6. Justice League (2017)
Turns out hiring the guy who first made Marvel Studios a big hit was a bad idea for Warner Bros. This one was made because Joss Whedon replaced Zack Snyder as the original Director. The difference in concept versions between the two made this film a total failure, even for the box office total it could only collect $657.9 million.
If you think the $657 million figure and think the Justice League is a success, you're wrong. The $300 million production budget for DC's Crossover (which could have been more based on the extensive reshoots) means the 2017 film is one of the worst-hit films ever made.
For a film team-up that includes Batman, Superman, Wonder Woman, and Aquaman, all of whom have solo films grossing the most, Warner Bros. should definitely expect to see double those box office figures. But what happened actually made them disappointed.
In fact, in case you missed it, the film was originally handled by Zack Snyder, but for some unforeseen reason made he dropped out of the project. Then, brought in Joss Whedon as a new director, and he was the one who handled the first Avenger film ever made in 2012.
Unexpectedly disappointed for you, the final version of Justice League released in 2017 is still one of the highest grossing DC film ever made by Warner Bros. and DC.
---
7. Shazam! (2019)
A fresh new superhero is coming to the DC Extended Universe in 2019, namely Shazam. $365 million as a total revenue might not be a huge achievement if we compare it to other superhero movies which have billion-dollar targets.
But as a completely unknown superhero, Shazam was a huge hit for Warner Bros. The difference with other films that tell about DC characters but carries elements of dark and jokes, as usual, this film actually really likes Shazam and all the funny jokes and funny moments.
That can happen because this film is capable for teenagers and children. Warner Bros. takes a refreshing approach to the stale superhero formula, as it's inspired by '80s family films and has witty references to other heroes in the universe, which makes it impossible to fail.
This means that Shazam gets three times the production costs using $100 million. Next, we can find out how DC made a second film or how to tell this character in other DC films. But in fact, this first Shazam film became one of the highest grossing DC film ever made.
---
8. Birds Of Prey (2020)
Just like Shazam, the new film that tells the story of Harley Quinn but Cathy Yan's version can get enough feedback from fans and also for achievements at the box office. Doesn't make it a great film and makes some significant impact on the DCEU completely, but it doesn't fail and it doesn't completely succeed either. But still, which became the highest grossing DC film.
---
9. The Suicide Squad (2021)
Towards the close, we can meet a new version of the film Suicide Squad which was handled by James Gun and made a revenue of $167.4 Million. Good in terms of reviews but not in terms of income, because the budget for this film is bigger, which is $185 million.
That is, this film is what makes Warner Bros. feel the loss again. The Suicide Squad had the worst box office results despite being one of the best DCEU films. This film should have done more than that, especially with cinemas returning to normal after quarantine.
But anyway, if you're curious or just interested in watching this movie now, find these highest grossing DC film on the button below.
---
10. Wonder Woman 1984 (2020)
If you think spending a lot of money to make a few movies can also make it DC's Most Successful Movie, that's not true. This is just one example, on Rotten Tomatoes, the Wonder Woman sequel just got so few likes that a reviewer we call Tomatometer just wanted to give it 58 percent and 73% based on viewer scores.
However, for information, the box office failure of Wonder Woman 1984 due to its release during a global pandemic, to be honest, is a bad fact for this film. But either way, it depends on how you look at it, it's not really a failure. However, this film can get into the list of the highest grossing DC film.
In detail, this WB DC film can only get $166 million while the funds for its production reached $200 million. If we compare it, it feels like a big failure. But don't worry if you think Warner Bros is at a loss, hold on. Last but not least, this one could also go in as the highest grossing DC film ever made.
The film is also the first from Warner Bros to be an experimental release day and date when the film is uploaded to HBO Max the same day it hits theaters. This means a drop in box office numbers is expected, and it also means an increase in subscribers to the streaming platform, which could even be more profitable than higher box office earnings.
To be sure, those were all the highest grossing DC film by Wowkia Community. But if you're more interesting, it's most likely about DC Comics Movie ratings based on how much they make at the Box Office, just Click Here. Hopefully, this can be your new insight and knowledge.
---
Some Questions for Highest Grossing DC Film
What Superhero Movie Made the Most Money?
Until now, the Marvel film, titled Avengers: Endgame, is the highest-grossing film of all time. This one could gross $2.798 billion worldwide. What's more, this biggest crossover film by Marvel surpassed the entire Infinity War theater show in just eleven days and broke many box office records after its release. That's a fantastic achievement, isn't it?
What is the Lowest Grossing DC Movie?
If you ask about it, the answer is not just one but there are several answers for it. Justice League is the lowest-grossing DC Extended Universe film. Meanwhile, highest grossing DC gilm ever was Aquaman released in 2018.
What Makes More Money DC or Marvel?
If you're asking about the film version between the two industries, Marvel is the winner for now. And compared to the numbers, it's a long way off. The Marvel Cinematic Universe is the highest-grossing film franchise of all time, with a worldwide box office gross of $22.9 billion, and is still growing. Meanwhile, the DC Extended Universe was only able to make a little more than $5.78 billion, but it was also getting new growth.
So those are all the Highest Grossing DC Movies ever made till now. If you have some thoughts or questions about DC movies, you can share them in the column section below. Share this with your friends or anyone who likes superhero movies, maybe it can be a reference or just a new insight.