Ever since the third season of Stranger Things finished, fans have been waiting a long time for the next season. Now Stranger Things 4 is officially here. Several trailers have been released and Hopper who looked dead at the end of season 3 is still alive.
In Stranger Things 4's first teaser trailer, it looks like this season will be scarier than ever. This will be a very exciting film for you to watch.
Stranger Things Season 4 Release Date

Stranger Things 4 will be released in two parts, part 1 will be coming on May 27th and part will arrive on July 1st. This season will contain 9 episodes, according to a new statement, Season 4 will have an even longer duration than previous seasons.
The production of this film began on 4 March 2020 then the production got suspended and slowly resumed at the end of September 2020.
Through Instagram Live, David Harbour revealed Stranger Things 4 now was scheduled to be released in early 2021. However, due to the Covid-19 pandemic, they have to delay it until May 27th, 2022.
Stranger Things Season 4 Cast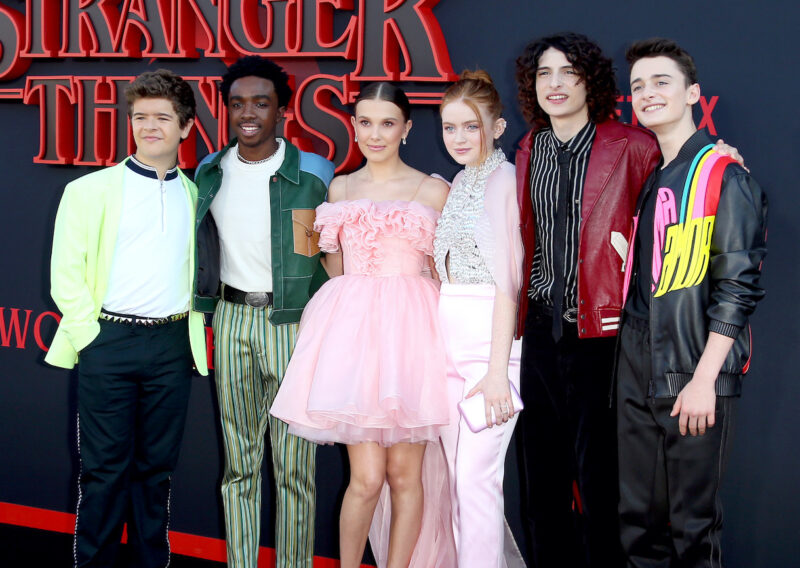 Regular crew: Eleven (Millie Bobby Brown), Mike (Finn Wolfhard), Dustin (Gaten Matarazzo), Will (Noah Schnapp), Lucas (Caleb McLaughlin), and Max (Sadie Sink) will return in Stranger Things Season 4.
In addition, there is also Erica (Priah Ferguson), Lucas' younger sister, who often provides a lot of humor. His knowledge of what's going on in Stranger Things is crucial.
Fans are also looking forward to seeing Jonathan (Charlie Heaton), Steve (Joe Keery), Nancy (Natalia Dyer), and Robin (Maya Hawke).
Here is the full list of Stranger Things Season 4 Cast:
Winona Ryder as Joyce Byers
David Harbour as Jim Hopper
Finn Wolfhard as Mike Wheeler
Millie Bobby Brown as Eleven / Jane Hopper
Gaten Matarazzo as Dustin Henderson
Caleb McLaughlin as Lucas Sinclair
Noah Schnapp as Will Byers
Sadie Sink as Max Mayfield
Natalia Dyer as Nancy Wheeler
Charlie Heaton as Jonathan Byers
Joe Keery as Steve Harrington
Maya Hawke as Robin Buckley
Priah Ferguson as Erica Sinclair
Cara Buono as Karen Wheeler
Brett Gelman as Murray Bauman[10]
Jamie Campbell Bower as Peter Ballard
Eduardo Franco as Argyle
Joseph Quinn as Eddie Munson
Matthew Modine as Martin Brenner
Paul Reiser as Sam Owens
Joe Chrest as Ted Wheeler
Matty Cardarople as Keith
Tom Wlaschiha as Dmitri
Nikola Đuričko as Yuri
Robert Englund as Victor Creel
Kevin L. Johnson as Young Victor Creel
Sherman Augustus as Lt. Colonel Sullivan
Mason Dye as Jason Carver
Amybeth McNulty as Vickie
Myles Truitt as Patrick
Regina Ting Chen as Ms. Kelly
Grace Van Dien as Chrissy Cunningham
Tyner Rushing as Virginia Creel
Livi Burch as Alice Creel
Logan Riley Bruner as Fred Benson
Elodie Grace Orkin as Angela
Stranger Things 4 Trailer
The official trailer of Stranger Things Season 4 was uploaded to Netflix's YouTube Channel on April 12, 2022, and there is a lot of stuff to talk about it. The clip begins with Max sitting in the grave of her stepbrother Billy. He said: "Dear Billy, I don't know if you can hear this but ever since you left, everything's been a total disaster.
Spoilers
Stranger Things Season 4 will be a big reveal about Hopper's history.
In March 202, David Harbor appeared at Comic-Con Liverpool and said that fans should learn more about Hopper's past for Stranger Things Season 4.
The first teaser for season four bluntly states that our hero "is not in Hawkins anymore." The same teaser also shows that timing will be a big factor in the new season, and here's a theory about how that might be.
It is well known that the writers of The Stranger Things spent months unveiling the ongoing film series. All connected to Season 4, this list includes (in order of disclosure): Peanut Butter Solution, The Fisherman King, Bill's Fake Journey, and more.
The first episode of the season is titled "The Hellfire Club." The Twitter account for the Stranger Things writers' room shared a photo of the cover page for the script of Episode 1, revealing the title of the season premiere to be "The Hellfire Club."
Read also:
Stranger Things Season 4 All Episode Titles
We also have the information about all the episode titles of Stranger Things Season 4:
Episode 1: The Hellfire Club
Episode 2: Vecna's Curse
Episode 3: The Monster and the Superhero
Episode 4: Dear Billy
Episode 5: The Nina Project
Episode 6: The Dive
Episode 7: The Massacre at Hawkins Lab
Episode 8: Papa
Episode 9: The Piggyback
FAQ
Is Jim Hopper Alive in Stranger Things Season 4?
In the Stranger Things Season 3 final, we see that Jim Hopper died, but unexpectedly this character reappears in Stranger Things Season 4. The reason why he can reappear is also explained in this season.
Who is The Villain in Stranger Things 4?
The Stranger Things 4 will be introduced Vecna as the new villain, his a ghoulish, bad guy, powerful lich. He can paralyze others, alter reality, and control minds. Sounds like whatever we're about to see in Season 4
---
So that's all the information about Stranger Things Season 4 release date, cast, trailer, spoilers, and everything about Stranger Things Season 4. If there are questions or other things that you want to tell, you can write them in the comments below.