Throughout its nine-season run, Scrubs had a plethora of guest stars including Michael J. Fox, Ryan Reynolds, and Jason Bateman.
Actor / comedian, Brendan Fraser (The Mummy), guest-starring in Scrubs came during his most famous time in Hollywood, when he had the leading role in the action-adventure The Mummy franchise.
Although Fraser only appeared in three episodes, they were all critically acclaimed, especially the episode titled "My Screw-Up." It is one of the highest-rated episodes of Scrubs on IMDb and showcases Fraser's talent. Fraser's role was of Ben Sullivan, who was the best friend of Dr. Perry Cox (John C. McGinley).
Sullivan was also the sister of Jordan, played by Christa Miller. Miller happens to be the real-life wife of Lawrence and is the link that made this all possible.
The Reason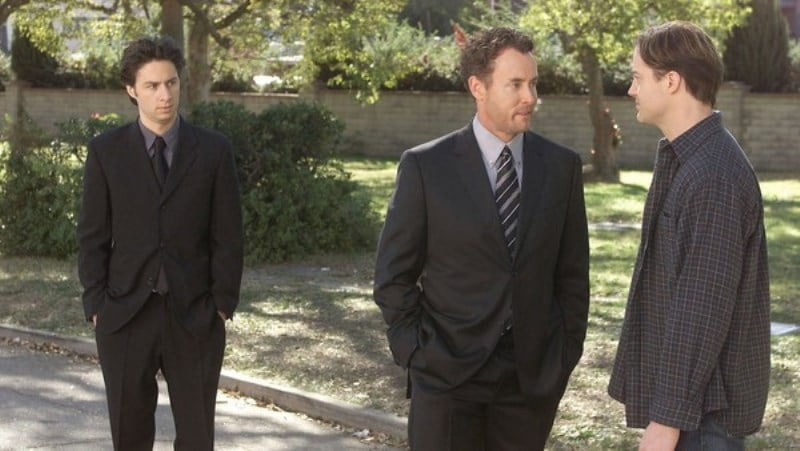 On the rewatch podcast Fake Doctors, Real Friends with Zach and Donald, Scrubs leads Braff and Donald Faison had Fraser on as a guest. Fraser said the possibility of appearing on Scrubs was thanks to his then wife and Miller, who were friends.
Fraser recalled his conversation with Lawrence, saying, "I mentioned something about feeling a little tired or jet-lagged and that I needed to get back to the gym…And when he sent the script over he sent a bunch of gym shorts. I mean, like, nice ones, too! This quirky move won Fraser over, as he explained, "When one man sends another man gym shorts, there is no other love."
So what are your thoughts in regards of that reasoning? Are u a fan of his Scrub's character?