Dead by Daylight is an asymmetric survival horror video game, the developer is Behaviour Interactive. This is one versus four online multiplayer games. One player takes on the role of the savage Killer, and the other four players play as survivors. The survivor's mission is to escape from the Killer. So the killer can't use you as a sacrificed for the Entity.
Based on their popularity on the PC platform and console, Dead by Daylight increase more than 3 million downloads. To celebrate, the developer presenting new characters called Leatherface or The Cannibal. So, this character comes with 3 skills such as Knock Out, Barbecue & Chill, and Franklin's Demise.
Let's look forward to Leatherface also coming up with campaigns such as Sledgehammer and Chainsaw Bubba. For your information, there will be new content presented in the game during the celebration of 4 years of Death by Daylight which soon held on May 26.
How To Download Dead by Daylight Mobile
For Android users from several countries, you won't find this game in Playstore. In addition, we giving you a quick tutorial on how to download Dead by Daylight Mobile. Make sure you don't miss anything!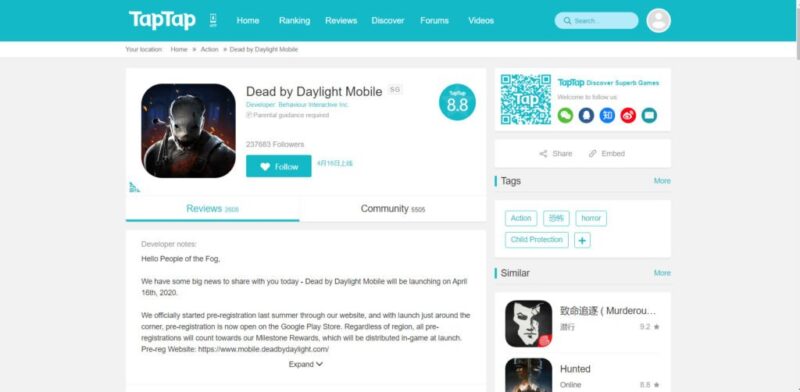 First, you have to download TapTap. Almost like play store, TapTap is an Application to download other Applications. This is so helpful for a player who wants to play games out of their country. Second, search Dead by Daylight Mobile and press download.
After that, there is an option to install Dead by Daylight, press Install. Note: you need to allow installs through unknown applications. And there you go! You can play Dead by Daylight Mobile now! Enjoy your time and don't forget to leave a comment below.