A Dr Disrespect fan creates a fantastic mockup costume design of him for Fall Guys: Ultimate Knockout skins. Yes, the skin that fans say they would pay for it.
Fall Guys: Ultimate Knockout is all the hype right now, and thanks to his return to streaming on YouTube, Dr Disrespect has decided to dive in. One of his fans created an excellent concept of him as a Fall Guy. As expected, the Doc used it as the thumbnail of his highlights video. Which is Amazing!
Since Fall Guys: Ultimate Knockout's release, companies, and fans all around the world have created mockup design. One of the main attractions of the new battle royale game is the silly skin. The skin that players can get by climbing levels or purchase with Fame and Crowns. Development companies such as Konami released a design concept for Solid Snake and Big Boss skin for Fall Guys costume to get in the hype. Even KFC hop in a mockup of Colonel Sanders that fans raged over.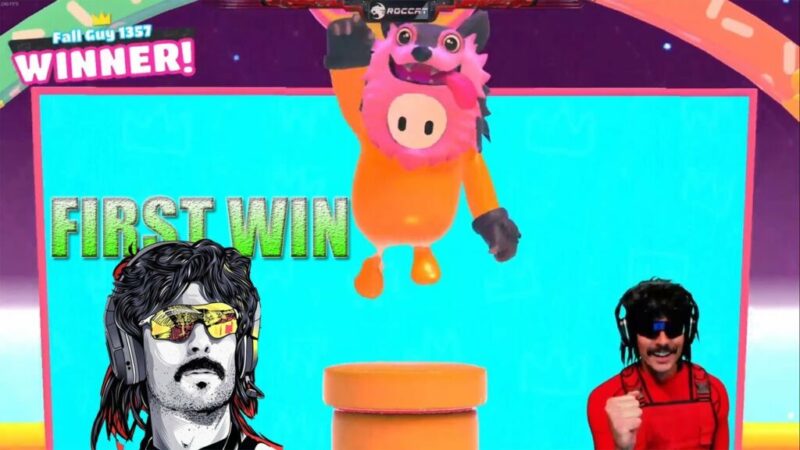 Gamers everywhere are also celebrating Dr Disrespect return to live streaming on Youtube. He returned last Friday, August 7th, and the video clocked in at over 400,000 concurrent viewers. Dr Disrespect recently begas streaming some Fall Guys action. A fan known as @xPRKRx on Twitter created an amazing design for a Doc Fall Guys skin.
The design got the Dr Disrespect attention, and who thought it was cool enough to make the thumbnail of his recent video "Dr Disrespect actually plays FALL GUYS" which has already garnered over a million views after only a day of being live. During the stream in his chat with a $5 donation, the skin reveals and the Doc responded, "man, you're on fire with these graphics, man."
PRKR has also designed Fall Guys skins for a number of other gaming streamers, such as Ninja, which features his classic blue hair and headband and other thing embellished with a ninja star. For Doc's design, however, it shows off his classic crazy hairdo, headset, sunglasses, and mustache ensemble with a crest of the Doc's logo on the front of his shirt. Though PRKR only has a small following on Twitter, the post gained quite a lot of attention from Dr Disrespect's community, some of which say they would spend real money for the in-game costume.
A couple of days ago, the Doc jumped into Fall Guys supposedly for the first time. He struggled and said, "I don't know what's going on.". Then he tumbled his way through the arenas while yelling at his jelly bean. It looks like the decision to tackle the newest battle royale was a wise one. Because the live-stream video currently sits at over 1.2 million views. It's also the plans for streaming a lot more of it in the future.
Fall Guys: Ultimate Knockout is out now for PC and PS4.