The Lion King remake gets a Rotten score on Rotten Tomatoes after the first reviews. It's kind of unexpected, as Disney has had great success in producing remakes of their well-known classics in the last few years. The previous Disney's animal movie, The Jungle Book, has gained some good reactions and audiences. And even one of their upcoming remakes, Mulan, the trailer has become one of the most-viewed trailers of all time. But what's really happening with Lion King?
The Lion King review embargo is lifted today. After the first early reviews published, the film has got a not-so-good score on Rotten Tomatoes. As of this post, It scored 58% on the Tomatometer with review counts of 105. The critics' consensus says:
"While it can take pride in its visual achievements,The Lion King is a by-the-numbers retelling that lacks the energy and heart that made the original so beloved–though for some fans that may just be enough."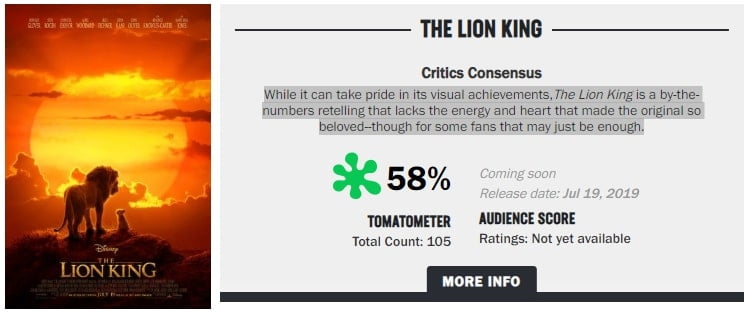 This is unfortunate since the early social media reactions gave more positive opinions. The most approved appeal of The Lion King was the amazing visual effects. One notable downside from the critiques is the photorealistic animals lacks the emotion from the original, but overall people can accept it. But it seems like the news of the shortfall has spread like wildfire in only a few days. For some, the problem is crucial.
Indeed, it's always difficult to remake a masterpiece. Trying to improve it might alter the perfect proportion. The Lion King remake will make some money from theaters, but there must be many fans that prefer rewatching the original.
Will you watch The Lion King next July 19 despite its Rotten score? Leave your thoughts in the comment. Check out more information about Disney's classic remakes here.