The Human Torch/Johnny Storm character was created by Stan Lee and Jack Kirby in their Fantastic Four comic books, gaining his powers after being exposed to cosmic rays aboard a spacecraft with the rest of his team.
Actor / comedian, Chris Evans (Captain America: The First Avenger), played Human Torch in 2005's Fantastic Four adaptation and its sequel, 2007's Fantastic Four: Rise of the Silver Surfer. Both films were modest box office hits, the first film grossing $333 million worldwide and the sequel taking in $301 million respectively.
Following the two films, Evans would go on to fill the shoes of another Marvel character, Captain America. The Human Torch role would later be given a new spin in Josh Trank's 2015 Fantastic Four, played by Michael B. Jordan.
Reason Why Evans Took the Role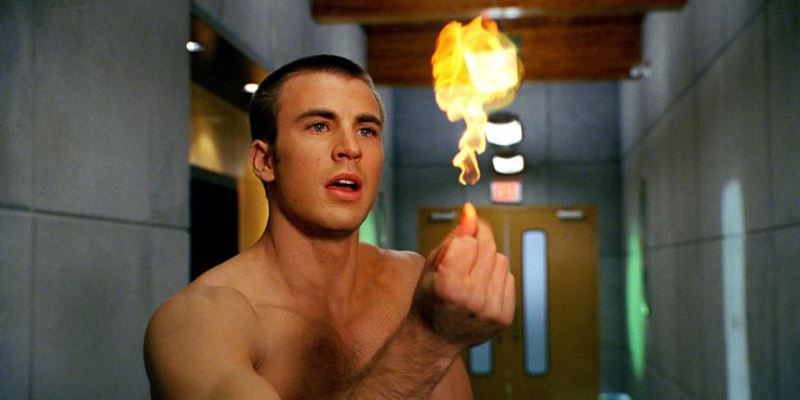 Years later, there's no doubt that most of us, probably wondering so badly, on why Evans at that time, willingly, took the role at the first place.
And after wondering all of these years, finally we're getting the answer. So, In an interview on The Hollywood Reporter's Awards Chatter podcast, Chris Evans opened up about taking on the role of Johnny Storm early in his career.
When discussing taking the part of The Human Torch, Evans said, "That was back when the superhero thing was just taking off." He goes on to add, "I had just been dumped and I needed it!"
Evans Indeed a Nerd
Evans has certainly dipped his feet deeply into the comic book waters, but has delivered the goods as both Captain America and Human Torch.
His personality was ideally suited for the role of Johnny Storm, nailing the cocky, nonchalant attitude of the character, while also giving him needed depth. He was easily a highlight in both of his Fantastic Four films, bringing laughs and entertainment value while trapped in mediocre movies.
Do u all agree with that statement? From those 2 iconic superheroes role of him, which one do you think is more suitable with Evans?