When news emerged that Warner Bros. and Whedon has discarded much of Snyder's original vision, and reshot a number of key scenes to slim down the narrative, fans went up in arms.
Over the next three years, an online campaign sprung up to have the so-called "Snyder Cut" released. Then, after months of rumors, fans were overjoyed when Snyder revealed that his cut would finally see the light on HBO Max, dropping the news during a Man of Steel online viewing party.
Since then – and in the years leading up to the cut's announcement – Snyder has posted a number of images, and one video, teasing footage from his version of the movie.
We're Only Seen The Tip of the Iceberg
Yesterday on a Vero post celebrating the fact that fans had raised over $200,000 for the American Foundation for Suicide Prevention, a cause that Snyder champions, a fan asked the director whether he had any more Justice League surprises left, due to releasing so many "spoilers" over the years.
Snyder replied by saying, "F-ck ya you have only seen the tip of the iceberg." You can see the comment below.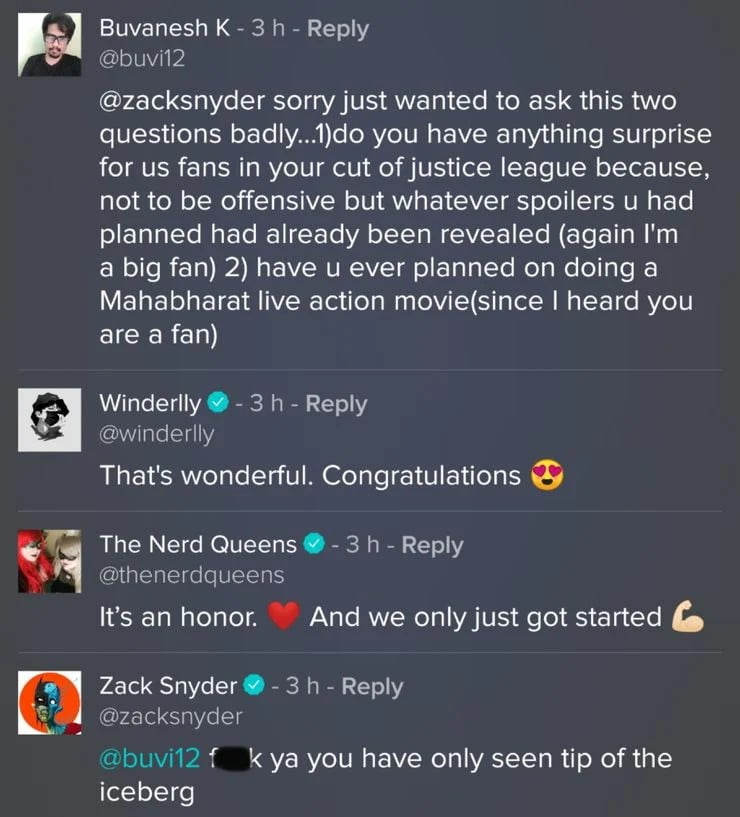 There have been fears that Snyder has been too open with his posts online, revealing too much about his cut of the film, but this comment seems to counter that narrative. This, despite the fact that many fans have made it a habit to scour each Justice League image released by Snyder for clues as to what he'll include in his version of the movie.
It does beg the question of just how much footage from Snyder's version of Justice League was left on the cutting room floor.
The director has released a large amount of material that was not included in the theatrical cut, and fans already know that Whedon's version changed a great deal, especially regarding Henry Cavill's Superman. But if what has been shown is "just the tip of the iceberg" as Snyder says, then fans are in for a treat.
Thus, let's just wait & see shall we?