Players are selling their iPhone with the Fortnite application for a considerable mark-up. That may seem ridiculous but could pay off for the entrepreneurial thinkers! Fortnite has been making more headlines than usual of late thanks to a legal dispute between its publisher and Apple. The main issue between Epic Games and Apple is over the current state of app stores and the monopoly that Apple has on its devices. The situation has led to Fortnite being removed from the Apple App Store, and as a result, the game is not purchasable on the phones of the manufacturer.
There are a lot of developers who have complained that Apple takes too big profits for apps they sell. There are also few attempts to do anything about it. Epic Games, the developer behind the popular free-to-play shooter Fortnite, is taking on Apple and Google in court. Fortnite was recently booted from both the Apple App Store and Google Play for blocking both from their cut of the profits from in-game purchases. Android smartphone users can install the game directly from Epic. Unfortunately, iPhone users are unable to obtain it at all without paying insane prices on eBay for used devices.
iPhone 6s, iPhone 7 and 8 with Fortnite and selling price more than it officially sells
Some iPhone users are currently trying to take advantage of the situation by putting devices with Fortnite on eBay for insanely high prices. This image we're showing you is one seller trying to sell an iPhone 6S with Fortnite game in it for $10,000 Buy It Now, with a starting bid of $1,000. While the listing has been a lot of time viewed, the device has no bids.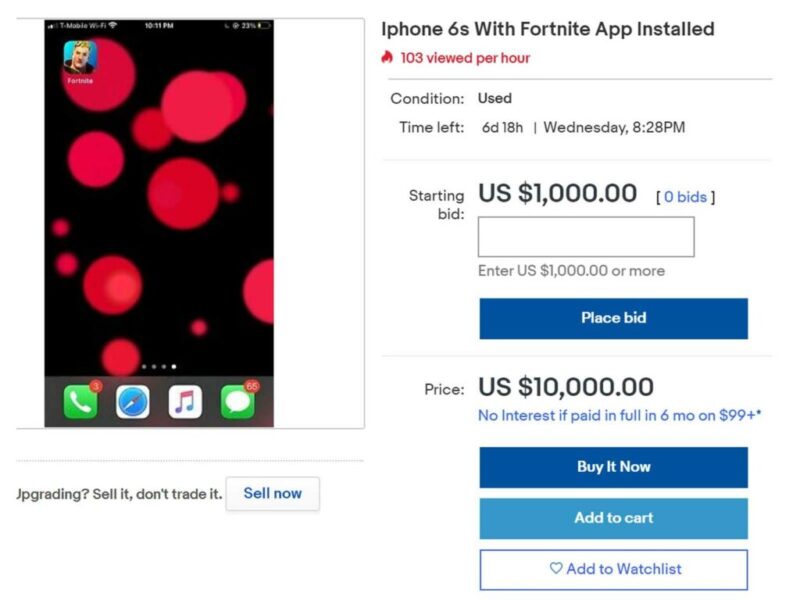 The other one is iPhone 7 selling with the first price $1,500 and Buy It Now $2,500. iPhone 8 with selling price $3,000 and Buy It Now $5,000, these devices has no bids either.
Now a curious thing has happened. Used iPhones are starting to show up in listings on sites like eBay. They're unremarkable except for the fact that they have the now-verboten game installed. The sellers are not hesitating to ask a premium for them.
The search term of eBay in the US "iPhone Fortnite installed" shows nearly 500 listings. Those are set with prices from $500 to the one mentioned above. Few listings do have bids, including one for an iPhone 7. With the game installed, it is bid up to $100 with over four days left. Another listing for an iPhone 11 Pro Max with Fortnite is bid up to $560 as of writing and SOLD as the time.
Besides the "no bid" selling, other devices with the game installed get sold with crazy price

Looking at the Sold Items shows that people have been paying insane prices. One iPhone 7+ with the game installed sold for $3999.99. An iPhone 11 Pro with Fortnite sold for $4750. Still, even if someone buys it, they have one problem. Because Apple's banned the game, Epic can no longer support the game and roll out updates to keep it running. That means one good iOS update might render the game unplayable, and we're due for one of those soon. If Epic trying to weaponize Fortnite players and Apple and Google prying the game away wasn't bad enough. Now, we have yet more people trying to gouge Fortnite fans for money.
Fortnite is available now on mobile, PC, PS4, Switch, and Xbox One, and in development for Xbox Series X and PS5.