The mysterious teaser website for Call of Duty 2020 has received another strange page. The developers released the final VHS tape today and alongside it a minor update to the landing page itself. A new word appeared on the pink sticky not leading Call of Duty fans to this strange location.
A new page has appeared attached to the Call of Duty 2020 promotional website. This page may hold the secret to solving everything.  This reveal has been rumored for quite some time now. Popular insider news provider Tom Henderson had tweeted this back in June.
So far, his predictions have come true, and it is highly likely that we will see an in-game reveal. This has been one of the longest Easter Egg hunts in Call of Duty history, mixing real-life ciphers with in-game clues. Players have been hunting across Warzone bunkers for answers, and this final key might be the connecting factor to bring all the information together.
Recently, the players reported a cryptic message showing up on their screens while playing Warzone. The image provides two valuable things to fans. The first is a cryptic message with a resounding truth about war. The second is a decryption key used to assign colors to an alternate color. Fans have connected these to the color dots on the puzzle matching the colors of the varying historical VHS tapes. By combining the stream of numbers in each tape, fans finally have the tools to complete each of the different ciphers making time the only factor in the reveal.
Possible Call Of Duty 2020 teaser in Warzone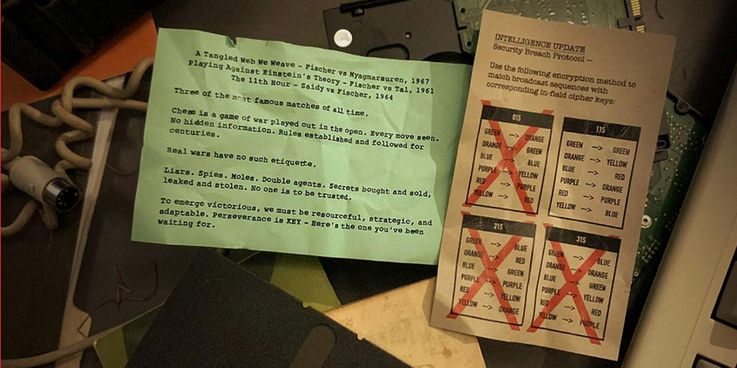 For fans, this message is an exciting new development in this massive Call of Duty puzzle. Hidden among its text is both solid advice and secret information that can aid in the fan's search for the trailer. Several details from the message stood out including "Perseverance is KEY," the repeat of Fischer, and the three words "Resourceful, strategic, and adaptable."
By observing this, more in-depth fans have been trying to understand what Activision is trying to communicate. The key on the right side of the page has been the most helpful aiding by adding direct solutions to multiple ciphers. The quick switch on colors may have undermined earlier work, but it solidified official answers in the end for fans to discover.
Whether or not this page holds the answers is still unknown. As fans dig through cryptic information their only source of guidance on this page and the previously mentioned emc2 site. Although the answers all seem present, the solutions to every cipher still seem out of fan's grasps. Everything seems to revolve around this puzzle, Robert Fischer, and a very complicated game of chess. Hopefully, fans will be able to be three steps ahead and avoid a checkmate in this chess based puzzle.
Call of Duty 2020 is being developed by Raven Software and Treyarch.