In Minecraft game, players usually need to make one of the tools, namely the Composter in the. With this tool, you can make Bone Meal easily, like farming wheat and such.
However, most Minecraft players won't usually use this tool to get Bone Meal fast. Even so, there are certainly some players who want to use this tool as their main tool.
So, that's why here, Wowkia will tell you how to make Composter easily. You should read the explanation below carefully so that you understand how to make it.
Making a Composter in Minecraft
To make Composter, you can use various Wood Slabs, even if they are different colors or the usual ones. To make your own Wood Slab, you just need to cut down a tree, then turn the wood into Oak and the like.
After that, you need to go to the crafting tool and put the converted wood into 3 rows. After that, later, you will get a Wood Slab that has various colors, depending on what wood you use. If you have made a Wood Slab, we will continue to make Composter in Minecraft easily.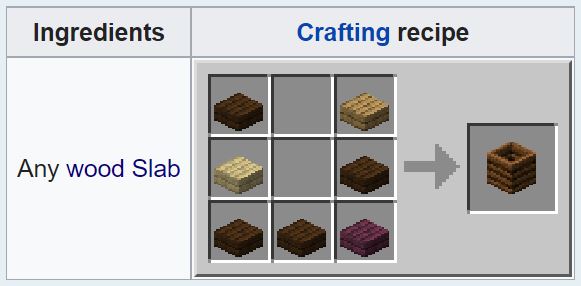 You only need to add any Wood Slab to make a Composter, as seen in the photo above. Once you've added the recipe, you can now make as many Composters as you want, depending on how much you need.
In addition, you are also allowed to mix various Wood Slabs in this recipe. So, don't worry if you only think that there can only be one Wood Slab ingredient in one recipe.