In addition to chests, there are also other items in Minecraft that you can use to put various items, namely Barrels. This tool itself is actually very rarely used by Minecraft players. However, for those who want to make Barrels in Minecraft to replace chests, it is the right choice.
You see, you could say Barrel is an item that is rarely used by Minecraft players. So, if you use this, surely many players are confused about what this Barrel is for. That's where the uniqueness of this one item is compared to the usual chests.
Apart from that, if you want to make this Barrel but don't know how, please don't worry. Here Wowkia will tell you how to make it easily. So, you should read the explanation below carefully.
Making a Barrel in Minecraft
To make Barrels, you can make them very easily, just like making ordinary chests. However, Barrel itself has a different recipe depending on the version of Minecraft the players are using.
But don't worry, even though you have a different recipe, the good news is that you will have no trouble finding the ingredients for the recipe. You can see the items you need to make Barrels in Minecraft, respectively, in the photo below. As explained in the photo, you need Planks+Wood Slab for the Java version and Stick+Wood Slab for the Bedrock version.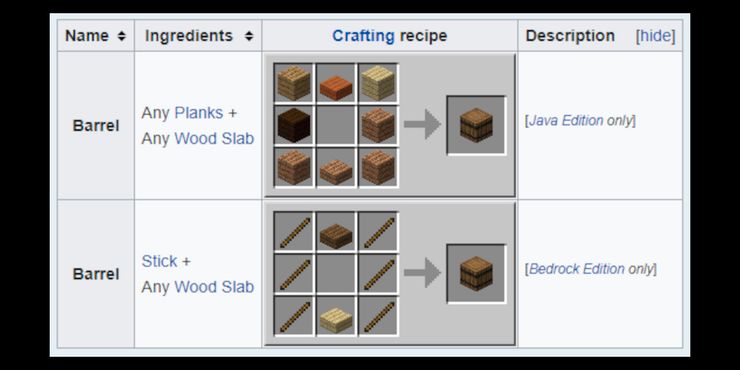 After you have got all the materials in the photo, now use the crafting tool. If so, now you only need to add the ingredients according to the photo above with each of your Minecraft versions.