Maybe for you, Daylight Detector is not very useful in Minecraft games. However, actually making Daylight Detector in Minecraft is one thing you should try. You see, with this tool, you can make the house in the game more creative and modern.
As we know, in the Minecraft game, the average tools that are there are quite old. So, by using this Daylight Detector, the chances are that your house will look better too.
So, don't worry for those of you who want to make this tool but don't know how to do it. You see, in this article, Wowkia will tell you how to make these tools in the Minecraft game easily.
Making Daylight Detector in Minecraft
To make the Daylight Detector in this game, you only need three main ingredients: Glass, Nether Quartz, and Any Wood Slab. You can find these materials anywhere in the game. However, if you want, you can also get it by making it.
For example, you can make Glass by heating Sand in the Furnace. As for Nether Quartz, you also only need to heat Nether Quartz Ore in the Furnace. For the last one, you can make Any Wood Slab by cutting down a tree, then converting it to ordinary wood and going to Crafting, then inserting the wood three rows.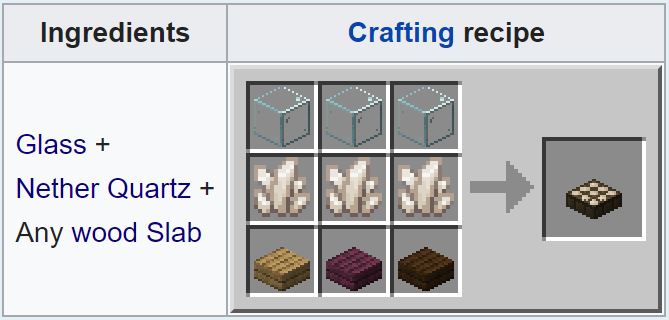 Now that you've got the materials needed to get the Daylight Detector, we're going to make one. To get started, you need to go to the Crafting tool. After that, enter the recipe as seen in the photo above, and you're done.