Marvel has officially announced Marvel Midnight Suns. This game will feature many Marvel characters such as Captain America, Iron Man, Doctor Strange, Ghost Rider, Wolverine, and many more.
The Marvel Midnight Suns is a collaboration between Marvel with 2K and Firaxis Games. It will be available for PlayStation 5, PlayStation 4, Xbox Series X, Xbox Series S, Xbox One, Nintendo Switch, and PC via Epic Games and Steam on October 7.
Marvel Midnight Suns Release Date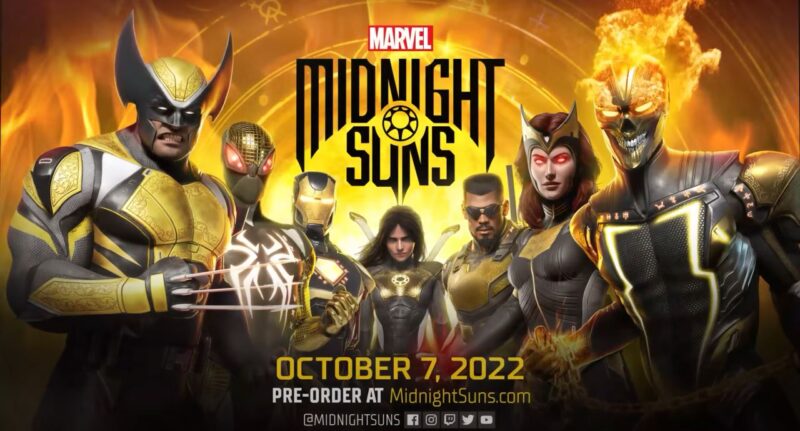 According to the Official Trailer, Marvel Midnight Suns release date will be on October 7, 2022, pre-order on Midnightsuns.com.
You need to buy the game for $59.99, only on PS4, Xbox One, and PC to play it. While For the PS5 and Xbox Series X/S versions, you have to buy it with Enhanced Edition, which costs an extra ten bucks, which is $69.99.
There is also a bundle Digital+ Edition for $69.99 on all platforms, including 11 premium cosmetics. Last, the Legendary Editions for $99.99 contains 23 cosmetic skins and Marvel's Midnight Suns Season Pass.
Marvel Midnight Suns Characters
Midnight Suns Team
The Marvel Midnight Suns trailer has shown several characters on the team. Such as Captain America, Iron Man, Ghost Rider, Doctor Strange, Wolverine, and many more. It is seen that the characters on the Midnight Suns team get several upgrades.
Captain Marvel
Captain America
Iron Man
Ghost Rider
Spider-Man
Doctor Strange
The Hunter
Wolverine
Blade
Nico Minoru
Magik
The Caretaker
Villains Team
The main villain in Marvel Midnight Suns is Lilith, Mother of Demons. He has no troops but can create forces. Lilith made several characters such as Venom, Scarlet Witch, Hulk, and many more into her army.
Lilith
Venom
Hulk
Scarlet Witch, Aka Wanda
Hydra BOB
The Forces of HYDRA
Crossbones
---
So that's all the information about Marvel Midnight Suns release date and characters, hopefully, the information can be helpful. If there are questions or other things that you want to tell, you can write them in the comments below.