The spate of country-wide protests over the death of an unarmed black man at the hands of a brutal police in the United States. It have prompted several gaming communities to voice their support for the black community.
First one, giving support for the Black Lives Matter movement, Sony declared it by delaying its long-awaited Playstation 5 June reveal event. They declared via a tweet accompanied by a message calling for "more important voices to be heard".
In the other hand, Naughty Dog urged members of the public to do their part in ending anti-black racism and violence. They're adding that "now is not the time for any of us to silent". It is what it is, we're not going to be silent for what matters.
Meanwhile, Xbox said it would stand together with fans, creators, colleagues, friends, and the entire African American and black community against systemic racism and injustice. Yes, we're all would stand together.
Here's Insomniac Games, the studio behind Marvel's Spider-Man and Ratchet & Clank. They also echoed similar sentiments in support of the black community.
These tweets were shared by about a dozen gaming companies and their respective partner studios.
The nationwide protests were sparked by the death of George Floyd. He died of asphyxia after police officer Derek Chauvin pressed his knee on the victim's neck. The victim lost his breathe after nine minutes locked with the police officer's knee. Chauvin has since been charged with third-degree murder and manslaughter.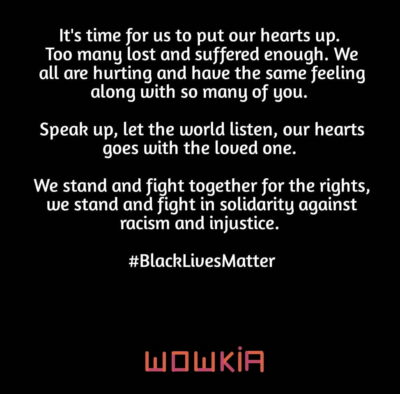 Wowkia stands together with you, people around the world and the entire African American & Black Community against systemic racism and injustice.