Disney is currently working on two different Pirates of the Caribbean 6 films, but neither one of them is directly connected to the other.
The Mouse House's theme park ride-turned swashbuckling adventure series has grossed some $4.5 billion over the course of five movies, making it (easily) the studio's most lucrative in-house live-action franchise from the past two decades.
At the same time, the property has suffered from diminishing returns of late, with 2017's Pirates of the Caribbean: Dead Men Tell No Tales earning mediocre reviews on its way to becoming the second lowest-grossing Pirates movies to date.
Approach Paul Wernick for Reboot
Of course, Dead Men Tell No Tales still made $794.9 million at the box office, so it's not like the franchise is dead in the water.
Far from it, Disney has kept busy in the three years since then trying to figure out a way to keep the action-adventure brand going while simultaneously reversing its downward trend, both critically and especially commercially.
The studio initially approached Deadpool and Zombieland writers Rhett Reese and Paul Wernick to work on a reboot of the property in 2018, but the pair didn't get very far before formally stepping down a few months later.
Margot Robbie the New Pirate?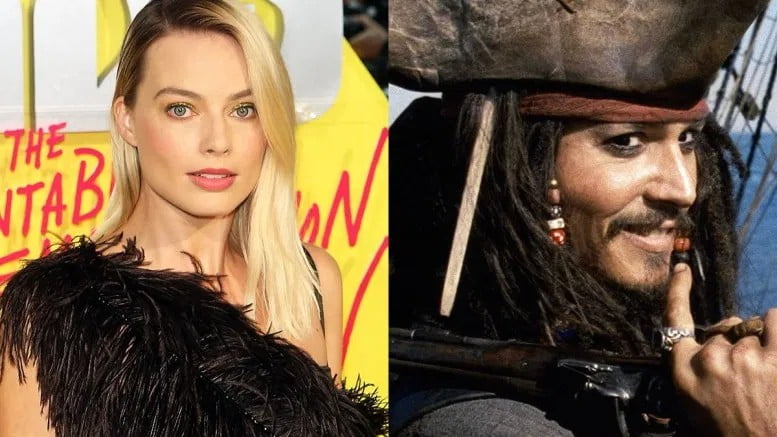 More recently, Disney recruited Craig Mazin (creator of HBO's Chernobyl) to co-write what's described as a Pirates of the Caribbean reboot with Ted Elliott (the co-writer of the first four Pirates movies).
Details are sparse beyond that, and it's still unclear whether the film would be a hard reboot or a partial continuation of the previous installments. Series producer Jerry Bruckheimer has been similarly vague about Johnny Depp's potential return as Captain Jack Sparrow, saying in a recent interview
"We're not sure quite what Johnny's role is going to be. So, we're going to have to see." As it turns out, a reboot's not the only version of Pirates of the Caribbean 6 in the works right now, either.
In an unexpected development, it's now being reported that Margot Robbie and her Birds of Prey writer Christina Hodson are reuniting for their own Pirates of the Caribbean 6 movie, with Hodson writing and Robbie attached to star. 
However, the film is described as being an entirely original take on the Pirates of the Caribbean property, as opposed to being a spinoff of the previous installments.
In other words, regardless of whether Jack Sparrow appears in the Pirates movie Mazin and Elliott are writing or not, neither he nor any other familiar faces (like Will Turner and Elizabeth Swann) from the first five entries will be sharing the screen with Robbie's buccaneer.
While it remains to be seen which of these films gets made (if not both or neither of them), it's good that Disney recognizes there's a need to shake things up dramatically if they're going to continue making Pirates of the Caribbean movies.
So, what are your thoughts about this guys?