The promotion of the teaser video for the Black Panther sequel was very emotional for fans and lovers of Chadwick Boseman because the teaser seemed to be made especially in memory of him. The emotional first trailer for the highly anticipated sequel features Wakanda reeling from the tragic loss of Chadwick Boseman's T'Challa.
There, it was also revealed how Tenoch Huerta's first appearance as Namor, the film's antagonist. One of the biggest mysteries of the upcoming film is who will take on the cloak of Black Panther. And now, there's the biggest clue to just that.
The New Black Panther
Some of the newly revealed LEGO sets may inadvertently provide the answer to this lingering question. Several new LEGO sets from Black Panther: Wakanda Forever was found in the LEGO instruction app, potentially revealing who took over Black Panther.
The first is '76211 Shuri's Sunbird', which appears to be Letitia Wright's new mount in the film. The set pieces also include Ironheart, who looks like Nakia, and an Atlantean. Then there's the '76212 Shuri's Lab', which also comes with T'Challa's old suit. Over there, was '76213 King Namor's Throne Room', a set that comes with Namor, another Atlantean, and Shuri.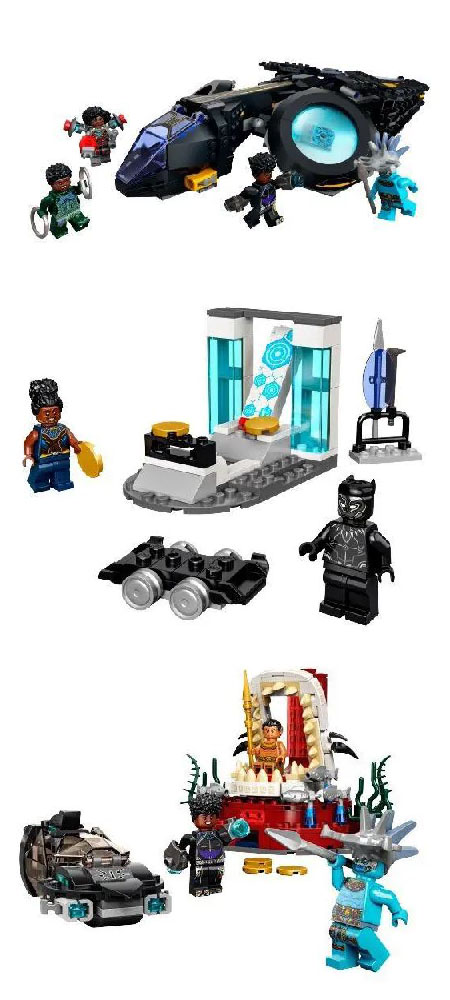 If one looked closely at Shuri's Minifigure, it definitely looked like she was wearing a Black Panther suit. Compared to what was seen in the brief teaser in the latest trailer, the Panther suit does look quite similar. In particular, the gold details are comparable between the two. It made sense for him to be the new generation that got the Black Panther legacy.
But another possibility could happen, another candidate in the race to become the Black Panther, the top picks include M'Baku, Okoye, and Nakia. Fans will just have to wait until Black Panther: Wakanda Forever releases on November 11 to find out for sure.