Disney+ has released a new trailer for its upcoming movie version of Hamilton. The Lin-Manuel Miranda musical is arguably the most influential of the last decade, introducing new audiences to theater via its immersive story and award-winning songs.
It also made Miranda, already known for his work on In the Heights, a household name. Since leaving the role of Alexander Hamilton in 2016, Miranda has built an especially close relationship with Disney.
He wrote several songs for the movie Moana, including "How Far I'll Go," which earned a Grammy. Miranda also starred opposite Emily Blunt in Mary Poppins Returns as Jack, a lamplighter. His next Disney project is the upcoming The Little Mermaid live-action film. He and original composer Alan Menken teamed up to write new songs.
Hamilton Movie on Disney Plus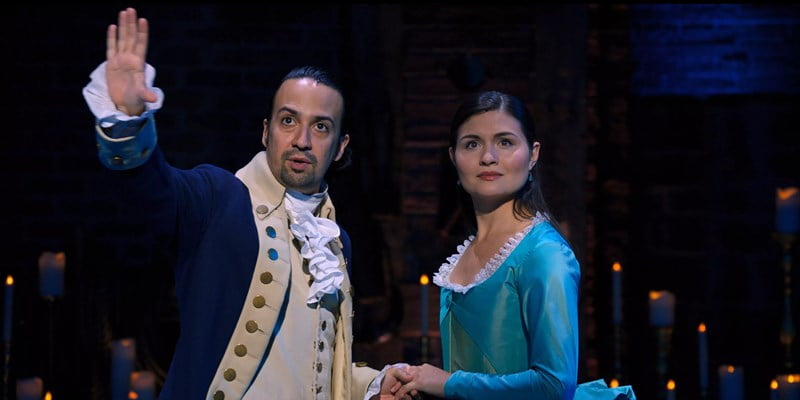 Disney has already shared some footage from the movie version of Hamilton, including the first trailer last week. Earlier today, Disney+ shared another video featuring Miranda and other members of the original cast. Check it out below:
The new trailer should make fans even more excited to finally see the movie version of Hamilton next week.
At only a minute long, there isn't a lot of footage, but it's enough to tease what's to come. Releasing short clips like this one seems like a smart strategy by Disney. Since fans are already well-acquainted with the songs and story of Hamilton, it makes sense to leave as much of it a surprise as possible.
Hamilton is an anomaly in the movie musical world, as it hasn't been adapted for film in the traditional way. Instead, it seeks to provide viewers with the closest possible experience to seeing Hamilton on Broadway. Miranda has revealed even the swearing censored in the movie was carefully considered, with the intent of preserving the integrity of the show.
So, what do you all think about this guys?