Minecraft Potions have some effects such as healing, poisoning, etc. Previously we've talked about Instant health, now it's time to discuss Instant Damage. Now Wowkia Games will give you a tutorial on how to make a potion of harming in Minecraft.
For your information, the potion will immediately cause 6 points of damage to your health. The potion can be upgraded with a different ingredient. So, let's check how to make it and what materials are needed.
Require Materials
According to Digminecraft, you need the following item to make this potion:
How to Make Potion of Harming in Minecraft
Time needed: 5 minutes.
After you collect all the ingredients, you can follow the step below. Here's how to make a potion of harming in Minecraft.
Open the Brewing Menu

First, you need to open the brewing stand. Interact with it will open the brewing menu. You can see the image below.


Add Blaze

After that, you can put the blaze powder in the left box of the Brewing stand menu. This item will serve as fuel.


Add Potion of Poison

Potion of Poison is the main ingredient to make this potion. So, you need to put it in one of the three bottom boxes.


Add Fermented Spider Eye

Then, put the fermented spider eye in the top box. And the brewing stand will continue the process.


finish

In the end, you will hear "glup glup glup" sounds and the potion of harming made already. You can save the potion in your inventory.

Harming Potion Upgrade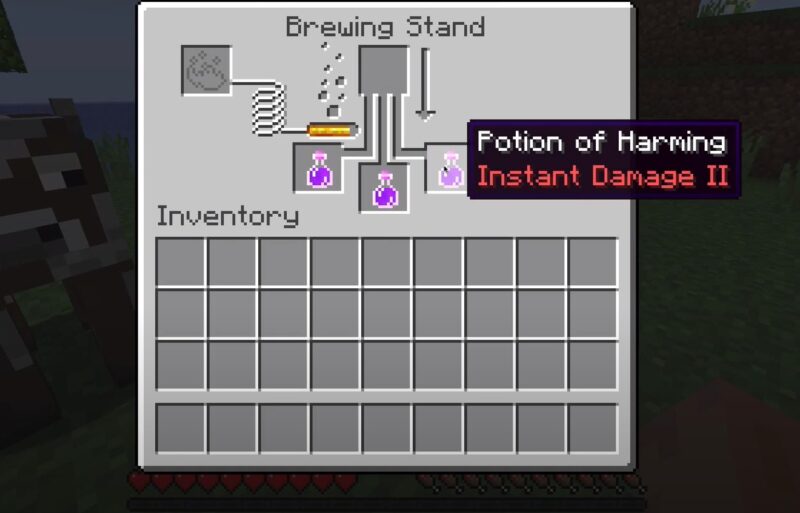 Just like others, you can extend the effect of this potion. You can make the instant damage II potion to give more damage. It would help if you had the new ingredient, Glowstone Dust. How to make a potion of harming II? You need to repeat the step above and change the ingredient with the one we mentioned.
Besides being consumed by the character (that isn't good for you), the splash potion can also be thrown at other players. You can make Splash Potion of Harming in Minecraft.
---
That's how to make a Potion of Harming in Minecraft. If you are looking at any other tips for this game, please tell me in the comments section below.