Previously, Wowkia has given you how to make a Potion of Invisibility that no one can see you in the game. This time, we will learn how to make a Potion of Healing in Minecraft. The potion will add 4 points of Health to your health bar. In other words, you can get instant health by consuming this potion.
So let's check what the ingredients needed and how to make it.
Require Materials
With the ingredients above, you can make the health potion in the brewing stand.
How to Craft a Potion of Healing in Minecraft
Time needed: 2 minutes.
To make the healing potion in this game, you can follow the steps below. This is how to make a potion of healing in Minecraft.
Open the Brewing Stand

First, you can make the potion in a brewing stand. So, open the Brewing Stand menu.

Add Blaze

Blaze Powder is the item to activate the Brewing Stand. Put it in the left box.

Add Water Bottle

Water Bottle is the basic item to make a potion. Add the item to the three boxes at the bottom.


Add Nether Wart

Next, add this ingredient to the top box in the brewing stand. During the process, the combination of Water Bottle and Nether Wart will produce an Awkward Potion. After that, the Nether Wart will disappear.

Add Glistering Melon

Then, you can place another ingredient, Glistering Melon into the top box.

Finish

The last, you will hear "glup glup glup" sound and the Potion of Healing will be made. You can take it and place it in the inventory.
Potion of Healing (Instant Health) Upgrade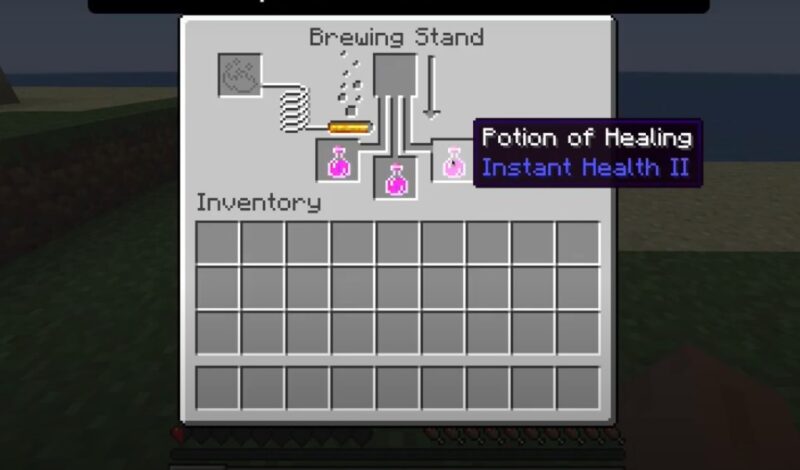 Meanwhile, you can also upgrade the potion to heal much health bar. You need the a glowstone dust. To make it, repeat the tutorial above, and make sure you put the new ingredients in the top box. Instant health potion 2 immediately adds 8 points of health to your health bar.
Besides being consumed by the character, potions can also be used by other players by throwing them. You can make Splash Potion of Healing in Minecraft.
---
So, that's how to make a Potion of Healing in Minecraft. We will continue to add the Minecraft tips to you in the next article. Make sure you leave a response in the comment section and to come back again.
Source: Digminecraft