Steam is the best digital market and platform to play the game. Each season, This platform always gives us a discount for the old and new game. One of the most anticipated events is the Steam Winter Sale. And now, Steam Winter Sale 2019 is started.
This year, we will get thousands of games marked down and "Festivity Tokens" that customers can earn by buying games or completing Holiday Quests. The Token can be spent to buy Chat Stickers, Chat Room Effect, and the Steam Winter Sale coupon.
---
Best Offer in the Steam Winter Sale 2019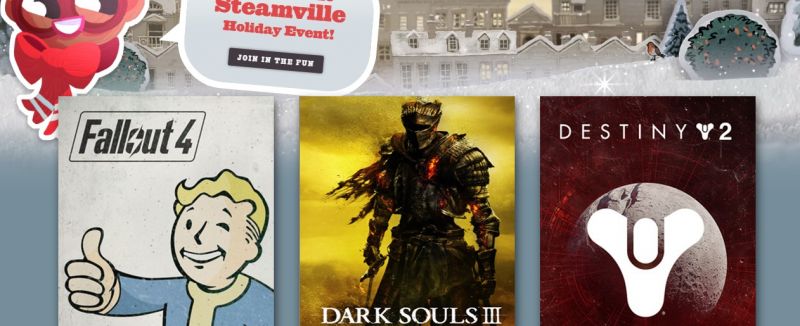 For those of you who are interested, there will be many games that get a discounted price. Several famous games like Fallout 4 and Dark Souls III get a discount of more than 70% off.
Recommended game to buy:
Frostpunk – $12/£10/€12 (60 percent off, apparently the highest discount ever)
Dark Souls 3 – $15/£10/€15 (75 percent off)
Total War: Warhammer 2 – $20/£14/€20 (66 percent off)
Hellblade: Senua's Sacrifice – $10/£8.50/€10 (67 percent off)
Sekiro: Shadows Die Twice – $39/£32/€39 (35 percent off)
Monster Hunter: World – $24/£20/€24 (60 percent off)
Stardew Valley – $9/£7/€8 (40 percent off)
Max Payne 3 – $7/£5/€7 (65 percent off, and I will defend this game as an outstanding cinematic shooter until the day I die)
Star Wars Jedi: Fallen Order – $50/£46/€50 (17 percent off, not a huge discount but it's a hit Star Wars game that's been out for a month)
---
The not only game but Steam give also the discount the popular franchise that available on this platform. There are more than 60 franchises that get the discount up to 80% off.
So, you need to manage your money to choose the game. The first Hollyday Quest is live now, and more will be added during the event. The Steam Winter Sale 2019 will run until January 2. If you were curious about other games, let's check to Steam Store now.