As we know, recently, Fortnite has released a new feature, namely "Sit Out." As the name implies, this feature can make players exit the match without fear of losing points or anything like that. However, many people don't know how to Sit Out in Fortnite. So, that's why here, Wowkia will tell you how to do that.
To successfully carry out this guide, make sure to read the explanation below carefully. But before that, you should first know what Sit Out is in this game. By knowing what Sit Out is, you won't have to worry about using this feature later.
In short, Sit Out is a feature that can get you out of a match when you are playing with a squad. This feature will take you out of a match for one or two matches, depending. Using this feature, you will leave, and your squad will look for other team members to replace you.
How to Sit Out in Fortnite
If you already understand the short term what Sit Out is, here's how to use this feature. Make sure you read the explanation below carefully so that there are no mistakes later.
First, open the Social Panel first by pressing the buttons of each of your devices, ESC on PC, + on Nintendo Switch and Options on Xbox/PlayStation.
After opening the respective social panel menu of your device, now select the Gear Icon as seen in this photo below, and select "Sit Out."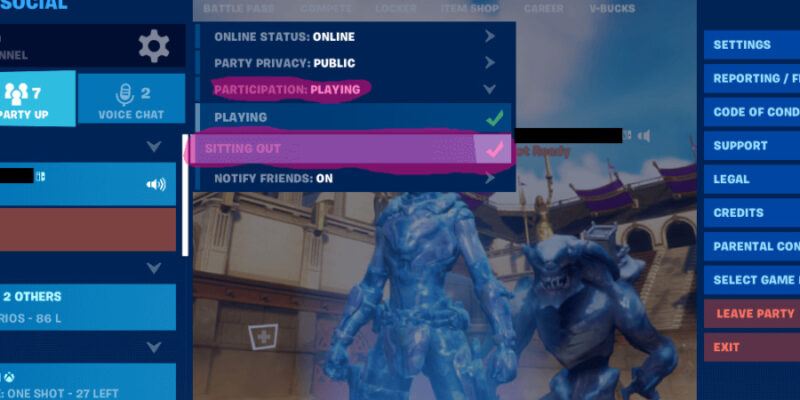 After you don't need this Sit Out feature anymore, you can change your status to Playing to play again. Indeed, this feature is not understandable for some people, but later, you will definitely get used to the Sit Out feature in Fortnite.