Previously, we have talked about the health potion recipe. This time, we will discuss how to make a Potion of Regeneration in Minecraft. The regeneration potion is different from the health potion that makes you can fill three health bars instantly. Meanwhile, this potion gives you the regeneration effect for 45 seconds. Your health bar will fill little by little during the duration.
So, let's check how to make a Potion of Regeneration and the ingredients needed.
Require Materials
If you want to make this potion, you have to collect the following items:
How to Craft a Potion of Regeneration in Minecraft
Time needed: 3 minutes.
Let's begin the tutorial on How to craft a potion of regeneration in Minecraft.
Open the Brewing Stand

First, open the Brewing Stand Menu.

Add Blaze

Then, you can put the Blaze Powder to activated the brewing stand. Put it in the left box.

Add Water Bottle

After you activated the brewing stand, add the Water Bottle in the three boxes on the bottom.

Add Nether Wart

Nether Wart has the effect to make the water bottle become an Awkward Potion. You can put this item in the ingredient box and wait until the process end.

Add Ghast Tear

Next, you can put Ghast Tear in the ingredient box. And the brewing stand will continue the process.

Finish

In the end, you will hear "glup glup glup" sounds and the potion of regeneration made already. You can save the potion in your inventory.
Regen Potion Upgrade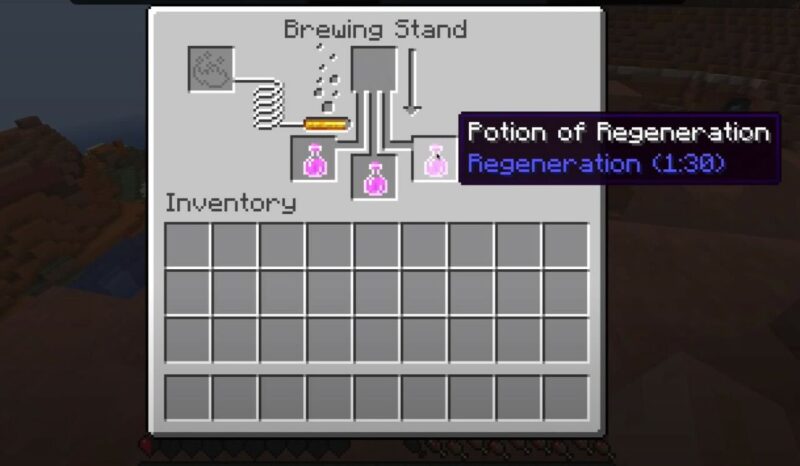 Just like other potions in this survival game, you can upgrade the regen potion. There are two types of upgrades to get a longer duration or much healing point.
The first one is called the potion of regeneration (1:30), which means you will get the regen within 1 minute and 30 seconds. To make it, you need to brew the regular potion with Redstone Dust.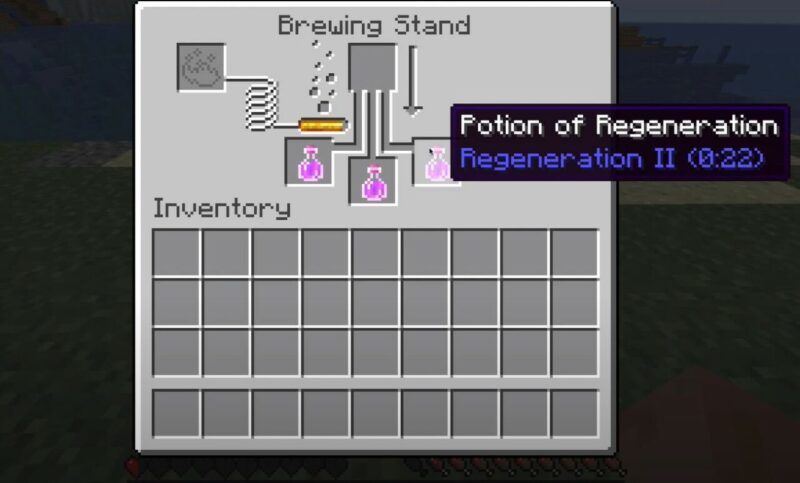 Second, you can make the regeneration 2. It will give a double boost for the same duration. It would help if you had the Glowstone Dust as an ingredient to make them.
---
That's how to make a Potion of Regeneration in Minecraft. You can check other recipes in Wowkia.
Source: Digminecraft