In the Monster Hunter Rise game, there are craft materials that are hidden for some players, like Sinister Cloth. Because this is one of the hidden ingredients in the game, that's why here I will share how to get it.
There are two main areas in Monster Hunter Rise to get this hidden material, namely Argosy and Meowcenaries, at Buddy Plaza. To find rare items there, you need to use this service which requires buddies. If you send buddies to Argosy, you can then produce materials like Dreamshell, which makes shell-based equipment.
Obtain Sinister Cloth in Monster Hunter Rise
In Meowcenary, you can get rare materials such as Gothjellies, which you can use to make jelly equipment. In this service, you also have the opportunity to get Sinister Cloth (this service only).
To understand better, you first need to go to Buddy Plaza and talk to Felyne Chief Kogarashi. After interacting with him, a menu will appear that can be used to select the destination and buddies that you can send to the destination. There is usually a sparkle icon near the location name to get rare items more easily, which means this place has a higher rarity.
In addition, just like other Meowcenaries, here players can choose various locations. To get a higher Sinister Cloth drop rate, you should go to Sandy Plains. But keep in mind that later you won't be sure to immediately get this rare item of Sinister Cloth in Monster Hunter Rise. So, that's why you should be patient looking for this item.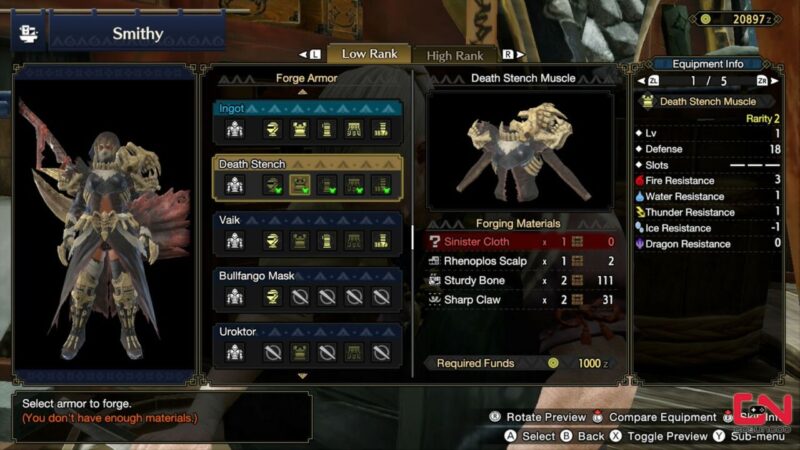 If you don't get the item repeatedly, you should check again whether the place has a sparkle icon or not. Because as I said before, those with sparkle icons will have a higher drop rate.