The Last of Us Part II is an upcoming action-adventure game developed by Naughty Dog and published by Sony Interactive Entertainment for the PlayStation 4. This game will still be released immediately on June 19th, 2020. Set five years after the events of The Last of Us (2013), players enter the role of 19-year-old Ellie, who comes into conflict with a mysterious Christian cult in the post-apocalyptic United States.
The game contains survival horror elements and is played from the third-person perspective. Players can use firearms, improvised weapons, and stealth to defend against hostile humans and cannibalistic creatures infected by a mutated strain of the Cordyceps fungus.
Five years after their dangerous journey across the post-pandemic United States, Ellie and Joel have settled down in Jackson, Wyoming. Living amongst a thriving community of survivors has allowed them peace and stability, despite the constant threat of the infected and other, more desperate survivors.
When a violent event disrupts that peace, Ellie embarks on a relentless journey to carry out justice and find closure. As she hunts that responsible one by one, she is confronted with the devastating physical and emotional repercussions of her actions.
In The Last Of Us Part II, the developer introduces us to a new transversal mechanics that afford great explorations and ways to navigate threats. Allie is not only able to climb and jump over gaps but she can use ropes to scale vertical terrain or swim over an obstacle. Allowing the player to discover the new area resources and side narrative.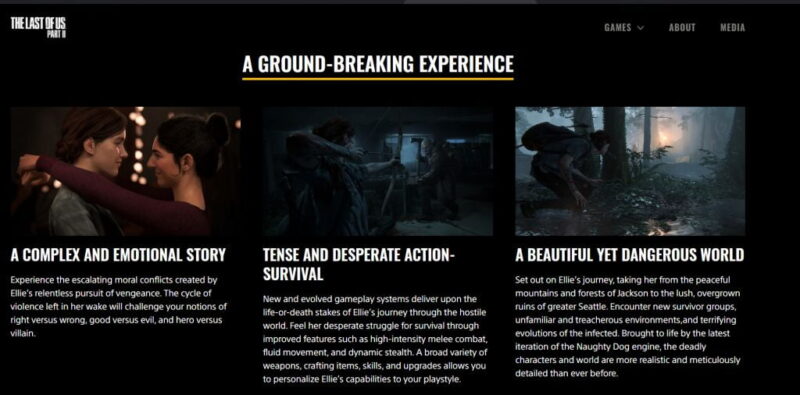 This game really involves the feeling of the player. Not quite up there, it provides a kind of ordinary battle, but it provides the thrill of survival and adjusting skills for battle combat. The Developer also gives an explanation on their official website about a ground-breaking experience, that makes everyone getting more interest in this cool game. Include us.
A game about pandemic while we on the pandemic, how interesting right? We wish everyone to keep stay safe home and enjoy your quarantine day.