In the first three X-Men movies, Mystique was portrayed by Rebecca Romijn. This version of the character was a secondary villain alongside Ian McKellen's Magneto.
We meet another version of this character in X-Men: First Class when the young mutant, Raven, is found in Charles Xavier's kitchen, leading us to believe her parents had abandoned her.
The equally young Xavier takes in the seemingly homeless Raven, and the pair grow up like siblings. The adult Raven AKA Mystique is played by Jennifer Lawrence, who had a leading (and less villainous) role in X-Men: First Class, X-Men: Days of Future Past, and X-Men: Apocalypse.
Holy Parentage Twist!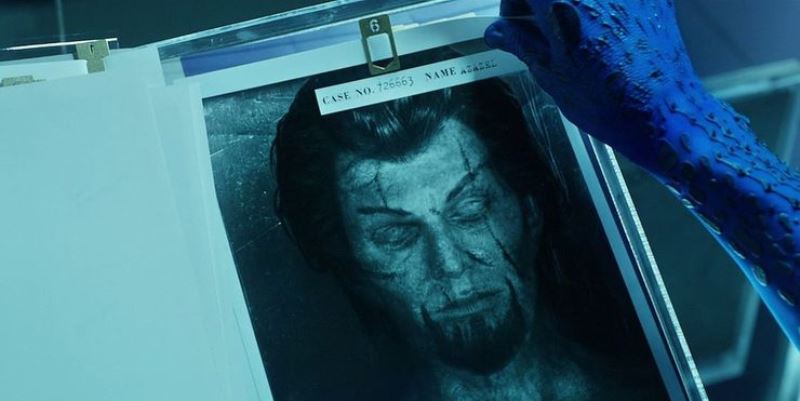 Similar to Romijn's Mystique, Lawrence's is somewhat of a mystery; we don't know exactly how she is (thanks to her shape-shifting abilities) nor who her parents are.
During a recent watch along with IGN, X-Men: Days of Future Past writer, Simon Kinberg explained an Easter egg: in the scene where Mystique infiltrates Trask Industries, she rifles through some files and sees the autopsy photos of mutants from X-Men: First Class. One of these images is of Azazel.
"There's Azazel," said Kinberg, "Who we know is her dad, but she never gets to learn that."
About Azazel
In X-Men: First Class, Azazel is played by Jason Flemyng. The teleporting mutant was a member of Sebastian Shaw's Hellfire Club, which served as an antagonistic foil for Xavier's newly-formed X-Men.
After the events of that film, Azazel joined Magneto's Brotherhood of Mutants before being captured and killed. Nothing that happens in X-Men: First Class suggests a relationship between Azazel and Mystique.
In the comics, Mystique and Azazel become romantically involved and the conceive Nightcrawler. Before Kinberg's revelation that Azazel is Mystique's father, many fans theorized that Nightcrawler (who can also teleport) from X-Men: Apocalypse is the pair's offspring.
In a deleted scene from X-Men: Apocalypse, Lawrence teased that Nightcrawler was the lovechild of Mystique and Beast. WOW! what a HOLLY REVELATION! So yeah guys, what do you all think about this?