Love is in the air for you AC Valhalla players; you can start a romance to spice up Eivor's adventure. So, let's find some love, boys and girls. This is your AC Valhalla romance guide.
Actually, AC Odyssey is the game that introduces romance options for its protagonists, allowing you to have quick flings with the locals or relationships with the quest givers. In AC Valhalla, Eivor can also get into some romantic relationship, and there is not much of a difference between Odyssey and Valhalla.
First, we have to know how the AC Valhalla romance work, right? Okay, so to start your romance with a character, you need to talk and connect yourself to them. For example, being with them during meaningful moments.
Romancing in the game itself is simple and straightforward. Some characters would even bluntly offers you to sleep with them. That being said, you only need to interact with them and choosing the right option. When you're already into the romance, you'll have an option marked with a heart to develop it further.
Some of the romances are a committed one, while some of the others are just flings. For the committed one, remember that you can break your romantic relationship if you're initiating another one or just choosing to break up. You also might miss some of these romances after one rejection. However, some will hold a candle for you. So, be careful with your choices.
Lastly, these romances are not affected by Eivor's gender.
---
AC Valhalla Romance in England
You will find most of the AC Valhalla romance encounters are in England, so we are going to start with that.
Randvi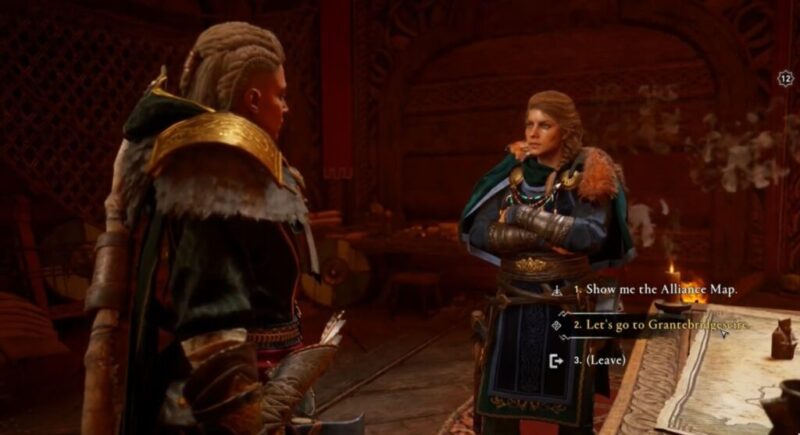 Well well well, what do we have here? A romance potential with your Jarl's SO? Interesting. Yes, you can make out with Randvi if you wanted to. But here's the thing, you might not want to accept her love at first in the main quest. That is because Sigurd will eventually find out, and he is sure as hell won't be happy. If you disappoint Sigurd 3 times on the main quest/story, you won't the AC Valhalla's best ending.
So, my take on this is that you wait because Sigurd and Randvi will break up later. Then, bam! Go get her. The Taken for Granted quest in AC Valhalla is where the potential romance with Randvi blossoms. To get this quest, you have to finish three pledges at the Alliance Map and have a Level 3 Settlement.
Petra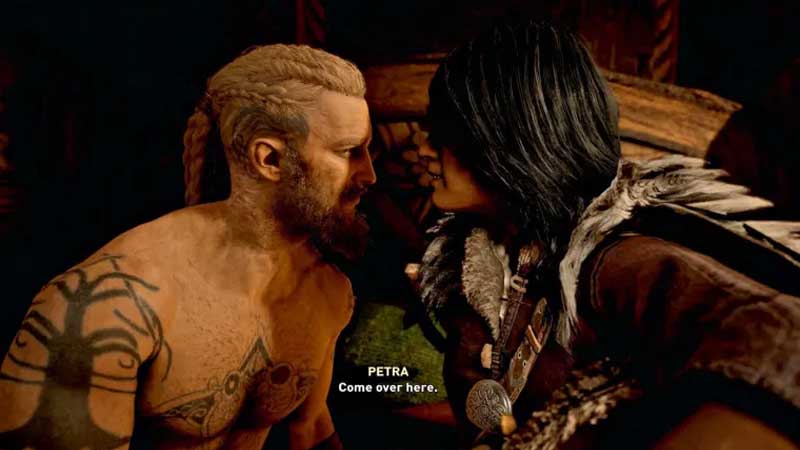 To get a chance on Petra's love, you have to build a Hunter's Hut in your Settlement. Do a few quest and after the Hunting Cabin unlocked, you can have a talk to Petra about Legendary Animal hunts. You can start your romance with Petra once she asks you out for an archery date. Keep in mind that if you already have a love line, you can't make out with Petra.
Broder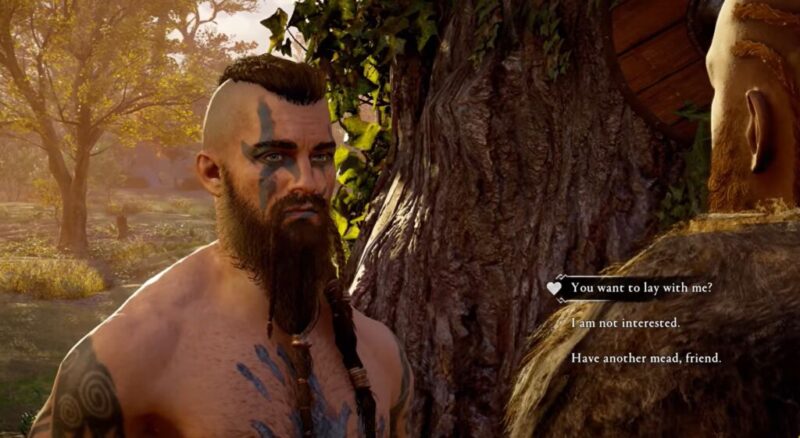 During the East Anglia quest, you'll come across Broder and Brothir, the Drengr brothers. You'll take them on at the start of the arc. Then, eventually, you'll be friends with the brothers, attending King Oswald and Valdis's wedding.
At the wedding, he'll ask what he should do to impress you? Maybe some "action" would do?. If you pick the first option, you'll sleep with him. Afterward, you're faced with another choice, whether to hurt his pride by calling him Brothir, or if you want to continue your romance with him, choose his name.
Tewdwr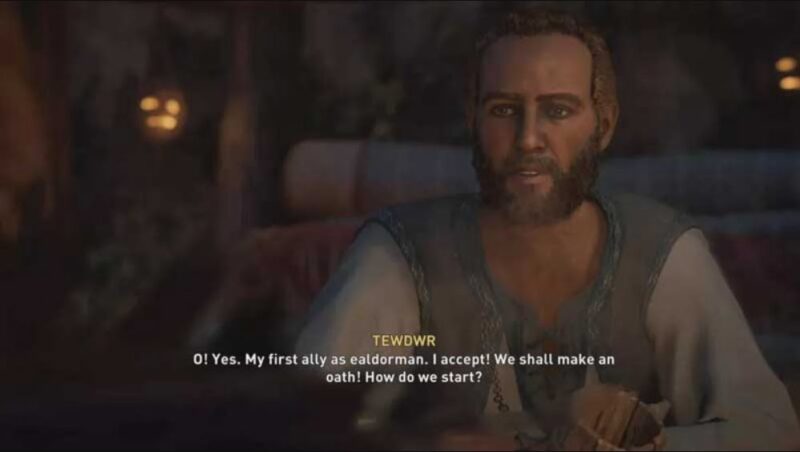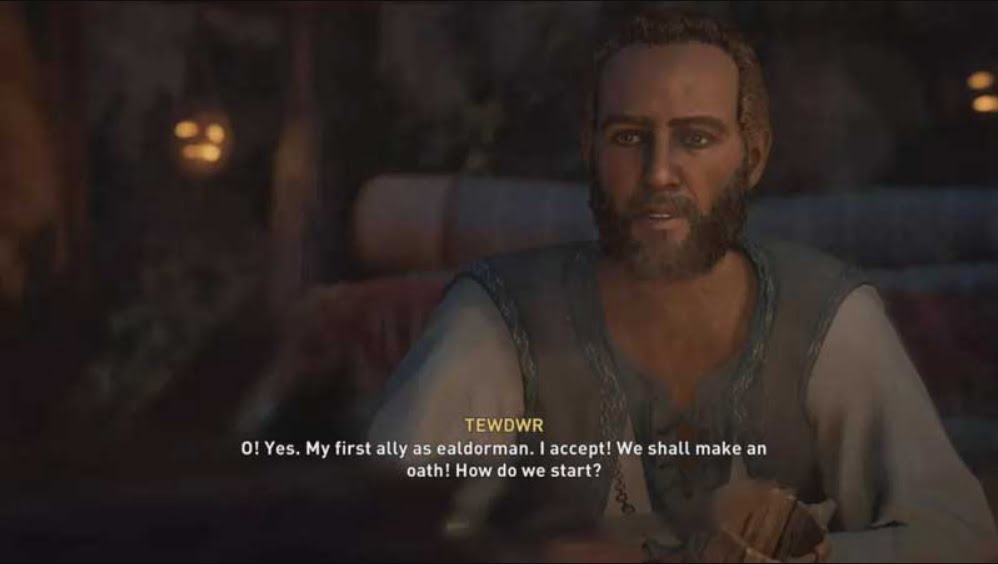 When Tewdwr is becoming the Ealdorman of Glowecestrescire, you will have a chance to spend an entire night with him. During this celebration, you can choose either to go with the romantic one or the platonic one.
Stigr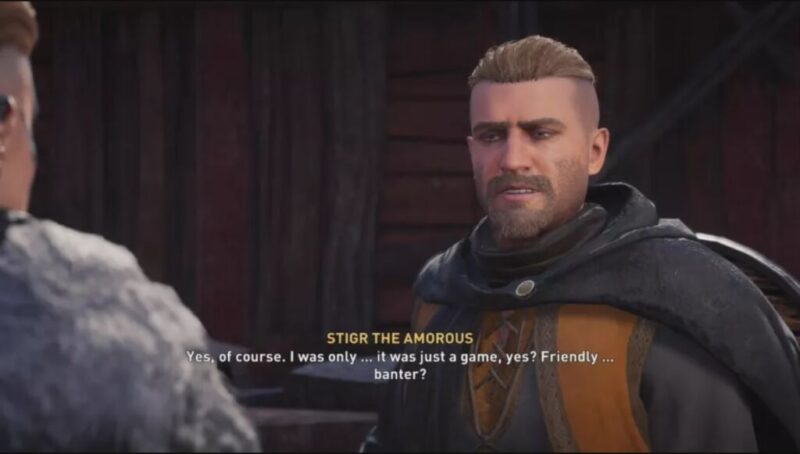 Being too good at flyting is hard, you'll be like DJ Khaled, suffering from success. When you win against Stigr in flyting at Snotinghamscire, he realizes that he wants more from you and your mouth. You can start a romance with or just take the silvers and go.
Stowe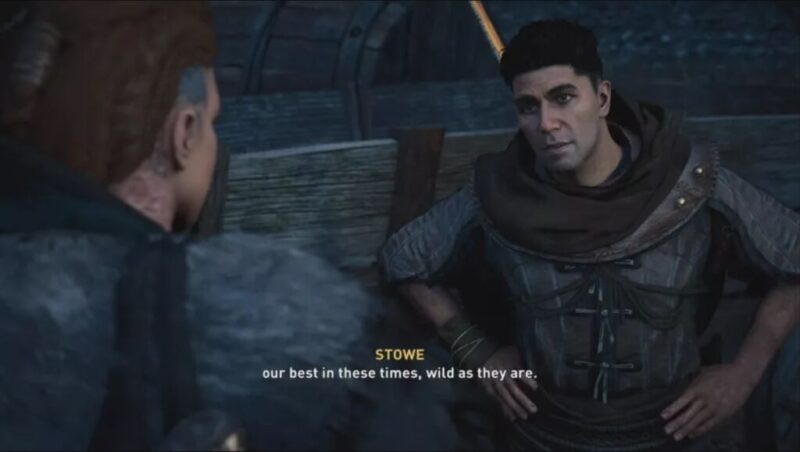 When you first meet him in Lunden, you can flirt with him as you fight by his side. However, this is as far as you'll ever get: Stowe's heart belongs to another. Eventually, you'll realize you can't compete with his true love: Erke.
Vili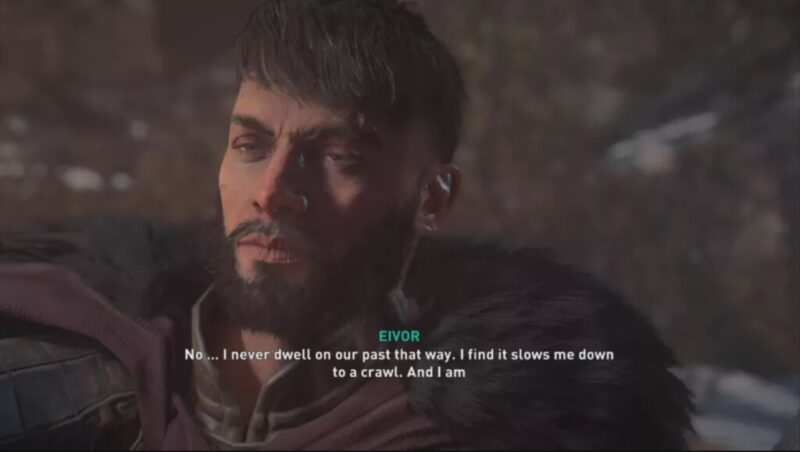 As the Snotinghamscire arc come to a close, you'll find yourself chatting with Vili at a campfire. Vili then makes his move, and you can encourage him or lightly reject him. Regardless of your answer, he'll still move to your settlement if you don't choose him as Jarl.
Tarben
To get the quest and start a romance with Tarben, you have to build a Bakery and a Fishing Hut in your Settlement. In the quest, you'll go with Tarben on a fishing trip. During this trip, he will tell you how he feels about you and asks if you feel the same way.
Estrid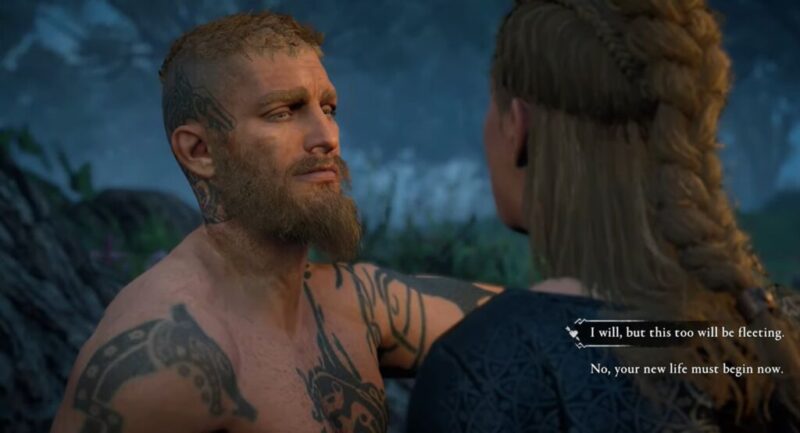 Estrid is the wife of Birstan, the lord of Essexe and their marriage is falling apart. After you talk to her on the coast, you'll get the Twists and Turns quest. Then, it's showtime, look for her in the camp and strike a conversation. Ask her about her dreams, and you'll get the option to "lie" with her. But, she'll be gone after this so this one is not a committed romance.
---
AC Valhalla Romance in Norway
Bil
You find Bil in the Rygjafylke mountains in Norway. Complete the quest Comb of Champions world event in Rygjafylke. Use your Odin's Sight to track down the comb, and obtain it, then Bil will be yours.
---
AC Valhalla Romance in Asgard
Okay, but first, how to get to Asgard? Well, you need a Level 3 Settlement. Valka, the lady that gave Eivor the vision elixir in Norway, will arrive and urge you to build the Seer's Hut. Then, Valka will give you a quest to collect herbs around the small lake near her hut. Once completed, return to Valka and drink the elixir to enter Asgard.
To leave Asgard, you're need to complete the View Above All quest which requires you to close the gate to Jotunheim.
Gunlodr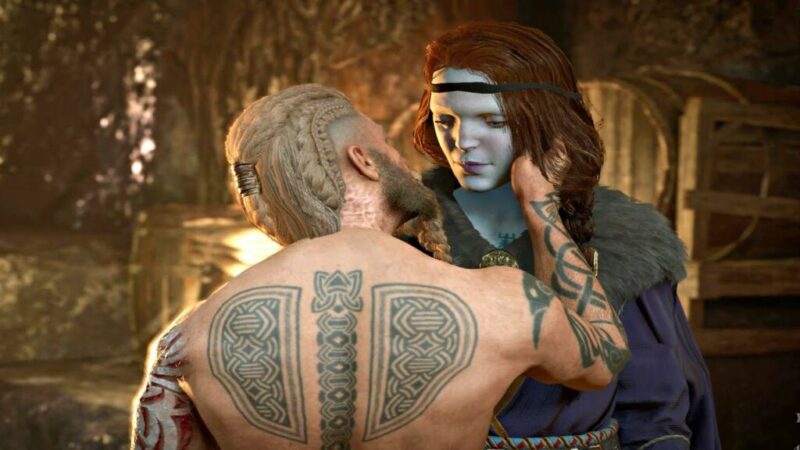 You need to visit Asgard twice for this romance. While playing the Asgard, you will receive Thor's Bridal Circlet. Give this after completing Asgard quest and solving Gunlodr riddles. Giving the circlet to Gunlodr will trigger the romance.
---
Alright alright alright, that's the AC Valhalla romance guide for you. Oh, you don't like this kind of thing, no problemo. Grind yourself, and become the greatest Viking assassins of all time by collecting these legendary weapons and armors.