Genshin Impact has many characters that you can get by finishing certain story quests or popularly called gacha. Some characters are stronger than others and this makes players want to obtain them.
When Zhongli was launched on December 1, 2020, he failed to set the world of Genshin Impact on fire since in fact some players felt that Zhongli was weaker than expected before. many players even thought that considering Zhongli as a 5-Star character status is very unworthy. As the result, miYoHo increase his stat in update 1.3.
Zhongli Did Receive Enhancement Stat, But Impossible to Get from Banner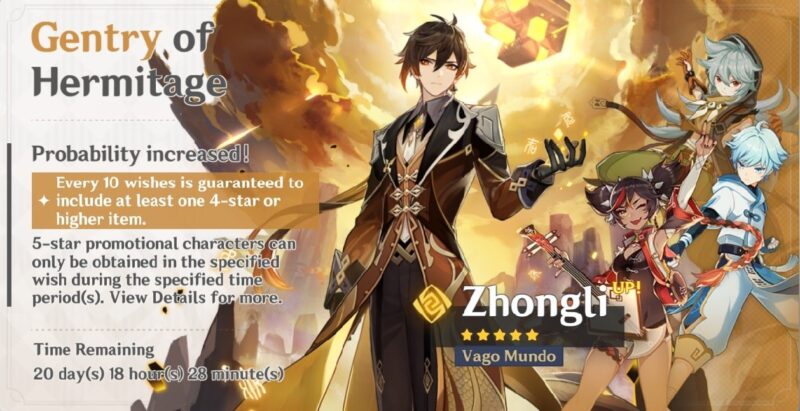 After the update 1.3, Zhongli receives a massively enhanced stat and makes him became one of the best Geo characters in the game. But, he is yet unable obtained by wishes and gacha. Normally, you can earn wishes from playing the game or microtransaction to get access to roll the banners, which will reward you a character. However, in this update, the developer changed the banners system. This new banners are introducing characters to the game as the older characters disappear. So, it will be impossible to get him since we know he is one of the old character.
Although Zhongli may not be currently available, do not be upset as you can get another powerful character from the banner. You can hold Primogems and Intertwined Fates to wait for the more powerful characters. The key to setting a good party in Genshin Impact is concentrating on the base characters regularly available in banners. The odds of receiving many characters are more extensive due to their availability. So, you can get other powerful characters to support you beat the enemy.
So, it's impossible to get Zhongli now, but don't be sad because many powerful characters who have excellent stats and skills will be available too in the future. So, what do you think about it? If you have any opinion, please write in the comment section and don't forget to revisit Wowkia to get another article about Genshin Impact.