On February 21, in a Twitter tweet, Paimon, as the official account for the Genshin Impact game has revealed a new weapon that will soon be coming to the wish event.
This new weapons itself are the Staff of Homa (five stars), Lithic Blade (4 stars), and Lithic Spear (4 stars). Indeed, the new weapons that will come to new Genshin Impact's wishes this time are not that many.
However, even if it's limited, it's great that this new weapon has excellent stats. In fact, not only the five-star, like Staff of Homa, the four-star weapon in this update also has excellent stats. In fact, from what I know, more people want a four-star weapon than a five-star weapon.
This condition is very normal as we all know that four-star weapons are easier to get through five-star weapons. Not only that, but the four-star weapons in this update also have statistics that are not inferior to five-star weapons.
Moreover, at the wish event, the three weapons that came in this latest update will get a rate-up around 50%. According to this fact, it is certain that many players will try to do gacha or wishes on this banner to get the three weapons.
Genshin Impact Reveals New Upcoming Weapons on the Epitome Invocation Banner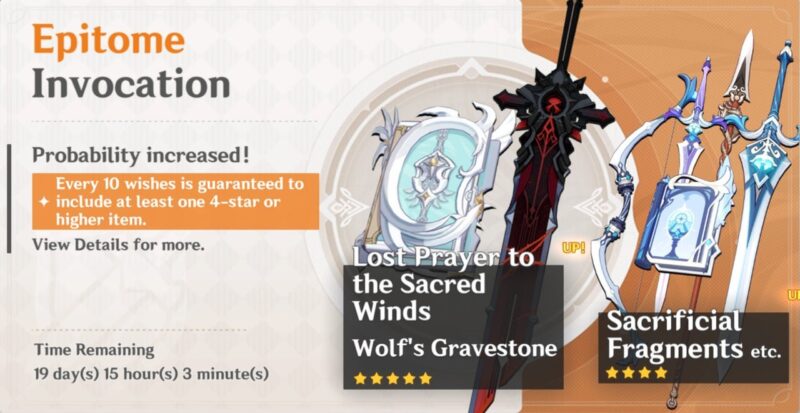 However, even though you want to do gacha on the Epitome Invocation banner to get these three exclusive weapons, according to first, don't just make a request. The thing is, even though you get the weapon on this banner, are there any characters suitable for using one of these weapons? So, that's why you think first before doing gacha on every banner in Genshin Impact.
As additional information, reportedly, the new weapon that will come to Genshin Impact will start on February 23, 2021. However, considering that this is only a leak and not the official information from Genshin Impact, you should not immediately believe this leak.