Soul Lantern in Minecraft sometimes can make you think the usual Lantern is not good enough to make your place looks cooler. But don't worry, actually making Soul Lantern is so easy, like making the usual Lantern.
But, even I say it's easy to make it; actually, you need go to Nether and find Soul Sand or something like that to make Soul Torch, a material you need to make Soul Lantern. If you don't know how to get Soul Torch, don't worry, I'm already making an article about that where you can see here.
Make Soul Lantern in Minecraft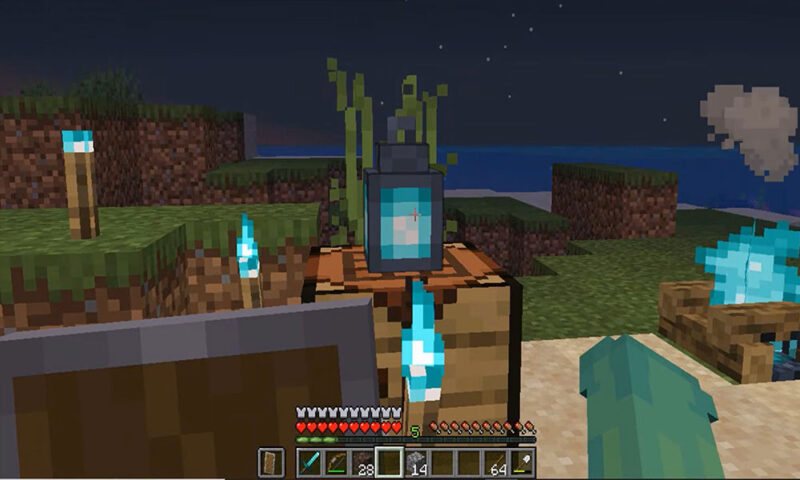 After making Soul Torch in Minecraft, we can now make Soul Lantern easily. One more, you also need an Iron Nugget to make it here, same like usual Lantern. But, I think most of you already have that material, and that's why let's go to the tutorial of making Soul Lantern on Minecraft.
Time needed: 3 minutes.
Before following the tutorial below, make sure you already have all material needed. If so, let's go making Soul Lantern.
Open Crafting Table

First, you need to open Crafting Table on your Minecraft. If you don't have it, just make it, which you can see here how to do it.

Enter Soul Lantern Recipe

After making the Crafting Table and open it, you need to enter the Soul Lantern recipe where you can see in this picture.

Done Making Soul Lantern

If you already enter the recipe, now you can take that Soul Lantern, and you are done making it.
Soul Lantern in Minecraft is indeed a thing you need to make. But, if you don't have the material, don't force yourself to make it. Because you can just make the usual Lantern one, where you can see in this article.