Epic Games Winterfest event always comes to Fortnite players during the holiday. One of the challenges of this event has players searching for Fortnite Holiday Tree locations.
The Fortnite players have to complete the challenge of dancing under all holiday trees. Then, you will be able to claim the rewards.
Fortnite Chapter 2 Holiday Tree Locations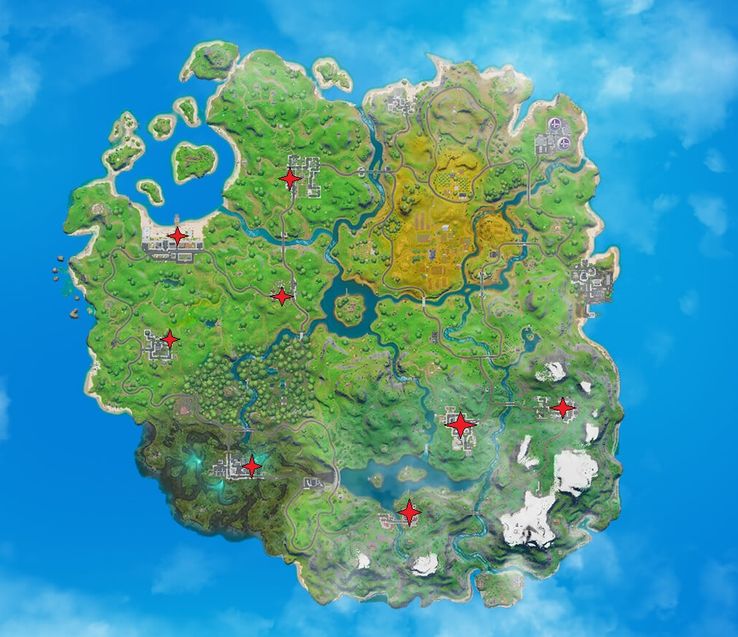 In fact, you must to dance near five different trees in different locations. If you need to know where to find them, you can check the image above.
You can find the holiday tree easily. You need only searching the Christmas tree that has a lot of accessories like light and baubles. The tree has 30 feet tall, so you can see it from far.
Here are these Fortnite Holiday Tree locations:
In Retail Row, close to the central car park. It's basically in the middle of the town. The star on top of this Fortnite holiday tree will help you distinguish this form others.
In Pleasant Park, north of the soccer pitch. This one is right next to the football ground. Very easy to find.
In the small garden on the north side of Holly Hedges. This holiday tree is very easy to locate as it has a whole garden dedicated to it and has all sorts of treasure chests around it.
In Misty Meadows, north of the bridge. You will find this one next to the canal following through the meadows near the north bridge.
North of the sunken courtyard in Lazy Lake This one is next to the car showroom.
In Salty Springs on its Southern border, You will find it in front of a house and it will have some gifts around it.
Slumpy Swamp
Sweaty Sands
The challenge progress can be tracked at the end of the game. If you had completed it, you can collect Winterfest rewards.
---
So, that's Holiday Tree locations in Fortnite Chapter 2. Some challenges maybe will be added in the coming days. So, don't forget to come back again later.