We've been waiting long enough for this moment, and finally the Valhalla players will get the new expansion Wrath of Druids. In the update, you can explore the new story from this Ubisoft game.
Moreover, Ubisoft has announced the release date of the first DLC. Are you interested? Let's follow me to the explanations below.
Wrath of Druids Release Next Month
According to the source, Ubisoft announced that Wrath of Druids expansion would be playable on April 29th, 2021. With the update, the player can take a journey to Ireland and learn about the ancient Druid culture. Moreover, Ubisoft also revealed the release of Season 2, Ostara Season. The developer will then bring so much content and in-game events, including cosmetic items, quests, and rewards.
For you who want to play at the Ostara festival, you need to clear the required mission. One of them is Grantebridgescire or Ledecestrescire mission. The event will be running automatically when the player enters Ravensthorpe. To access this area, the player has to reach settlement level 3. Finally, Season Pass owners can enjoy this latest expansion without paying any more.
Ostara Festival Details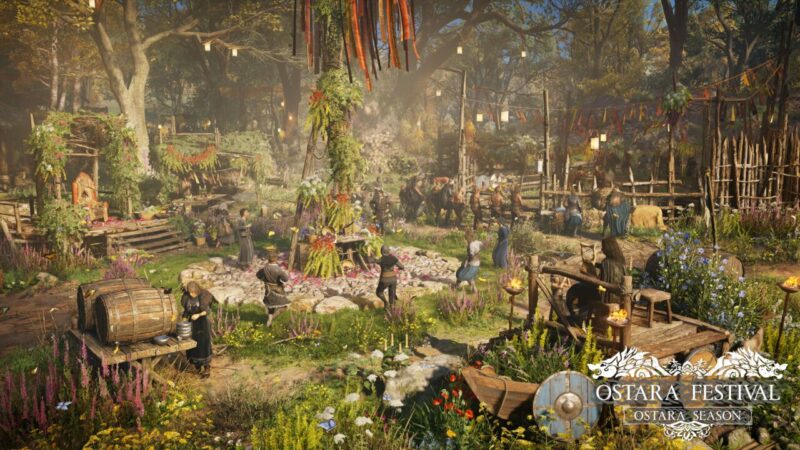 The festival can be accessed from Ravensthorpe until April 8th, and includes many Easter-related activities and quests, including:
A settlement decoration activity
Drinking, archery, and fighting minigames
Three new character quests: Eivor can enjoy an egg hunt, the May-Queen celebration, and protect the settlement against night spirits
Three new skills: Fearless Leaper lets Eivor land a devastating falling attack atop enemies, while the Raven's Loot and Loot Food skills increase Eivor's efficacy when at the range or fighting close-up
Exclusive rewards including settlement decorations and customization items
Finally, all Assassin's Creed Valhalla players will receive Altair's Outfit, the Yule Gear set, and cosmetics, and 300 opals for free. To claim the rewards, visit the Animus Store.
---
Well, that is the details about Wrath of Druids expansion and the next season of Assassin's Creed Valhalla, Ostara Season. Don't forget to follow us for more latest game information.