You need several materials to level up the character's talent, and Guide to Ballad Genshin Impact is one of those materials. This item can be used for leveling up talent character.
To get this material, you must first find the material for crafting, namely Teaching of Ballad. Although for that, Wowkia will show you where and how to get it, please read the following discussion carefully.
Talent Leveling Usage
There are several characters in Genshin Impact who use Guide to Ballad to upgrade their character talent level:
Yelan
Keqing
Xiao
Traveler (Geo)
Shenhe
Qiqi
Ningguang
In addition, also can be used Guide to Ballad ×3 and Mora 550× to craft Philosophies of Ballad 3x.
How To Get Guide to Ballad Genshin Impact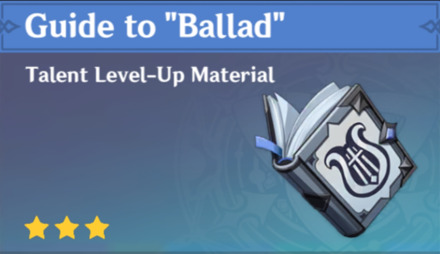 1. Domains of Mastery: Realm of Slumber
There is only one way to get the Guide of Ballad through the Domains of Mastery: Realm of Slumber at Forsaken Rift. It's located between Springvale and Dragonspine in Mondstadt. Just like other talent materials, you can only get them on Wednesdays, Saturdays, and Sundays.
You have to face Cryo Slimes, Large Cryo Slimes, Cryo Abyss Mage, and Hilichurl Fighter. For that, Wowkia recommends you to use Pyro, Electro, or Hydro characters to defeat them.
After completing the domain, you will get rewards based on the difficulty level you choose.
Teachings of Ballad and Guide to Ballad, on low level
Philosophies of Ballad, on a high level
2. Crafting
Sometimes we don't always get a Guide of Ballad, but other materials, namely Teachings of Ballad. Even so, with Teachings of Ballad 3x and Mora x175, you can craft to get Guide of Ballad 1x.
3. Parametric Transformer
Parametric Transformer is a mysterious artifact that can be found found in the Tianqiu Treasure Trail quest. You can receive at least 5-10 sets of items through this artifact. One of these sets contains a Guide of Ballad Genshin Impact.
It is possible to receive more than one set from the same group. The number of sets received did not appear to be affected by the quality of the materials used in the transmutation.
Read also:
---
So that's all the information about how to get a Guide to Ballad Genshin Impact. If there are questions or other things that you want to tell, you can write them in the comments below.