We're only 24 hours away from the Genshin Impact 1.3 update. Players can already update their game version through the pre-installation menu. But, all the events and rewards will still roll out on February 3rd.
I'm really excited to pull Xiao. I hope I can get him into the party with only 2 or 3 pulls. He's OP, he looks badass, his voice is crisp, too bad he's a little edgy, lmao. I already put some early details of Xiao earlier. So, feel free to check.
That being said, it's about time Mihoyo showcases Xiao, and here it is the Xiao's Character Demo Video!
Xiao character demo video
The video is cool, to say the least, but still not Zhongli-level of cool. In the Xiao character demo video, he is what we expected him to be. Since the first time I saw him on Liyue Archon Quest, I really dig his design, especially the tattoos/marks and the mask.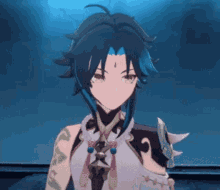 I noticed from the video that it seems he had been fighting his gruesome past and that we will learn about that more in his story. Like in the previous video, the story teaser narrated by Zhongli, he is the only Yakshas left standing in Liyue. All those thousand years he spent cutting demons down are not without pain and suffering.
Man, this one smells good. I have always had good expectations on each character story, and Mihoyo has yet to let me down. So, kudos to them. What you guys think about Xiao? Let us know in the comments.