To survive in the Skyrim game, players need various things, one of which is a Health Potion that will replenish your blood. However, because there are definitely some of you who don't know how to make it, here are the Health Potion recipes in Skyrim that will help you to make medicine.
Indeed, there are many ways to regain Health in Skyrim, like potions, food, or spells. However, in my opinion, the simplest and fastest way to regain your own Health is to use Health Potion.
Apart from Health Potion, you can also make other potions at the Alchemy Lab. Every time you combine ingredients, you have the potential to get various potions, one of which is Health Potion. The ingredients themselves consist of:
Here's Your Health Potion Recipes in Skyrim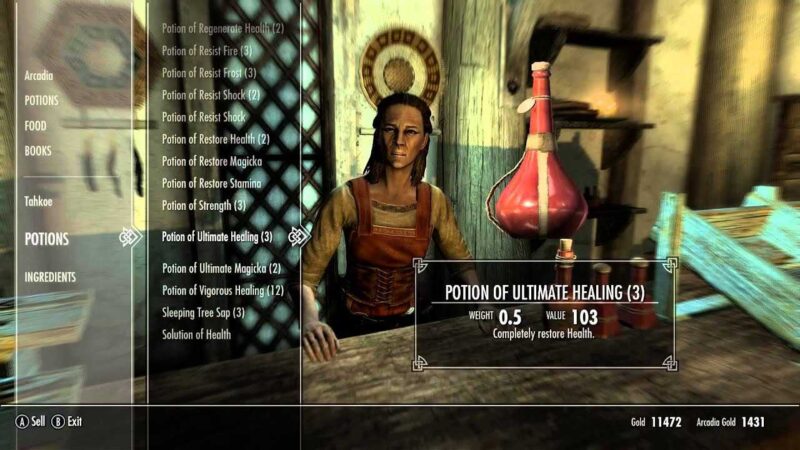 Wheat
Blue Mountain Flower
Blisterwort
Butterfly Wing
Blue Dartwing
Imp Stool
Charred Skeever Hide
Rock Warbler Egg
Swamp Fungal Pod
Eye of Saber Cat
Daedra Heart
Ash Hopper Jelly (Dragonborn)
Felsaad Tern Feathers (Dragonborn)
By combining one of the ingredients listed in the Alchemy Lab, you will generate Restore Health which, if consumed, will get back some health points, depending on how strong the potion is.
Keep in mind, before making the Health Potion recipes in Skyrim, Wowkia recommends you should not just make the potions. You see, there was a possibility that the potion wasn't completely pure, which would cause damage to the player. However, even so, the Health Potion will still work.