Ah, the legendary weapons, getting them is the pinnacle of excitement in playing RPG. AC Valhalla is no exception. So, this is your AC Valhalla legendary weapons guide. Equipping a legendary/mythical weapon in AC Valhalla can make you somewhat of a demigod. I'm sure you can't wait to get them and try them out.
Okay, so AC Valhalla weapons and armor are scattered around the map. They're in the chests labeled as gear. They can be found deep underground or somewhere inside a temple/fort. You can detect them using your Odin's Sight or scout them out using your Raven. You might have to solve a few puzzles before you can get to the chest.
We have shared some tips and tricks on how to explore and fight in AC Valhalla. Do you already have the weapon and want to go search for armor sets? Check this one out, too!
AC Valhalla Legendary Weapons
There are some of AC Valhalla legendary weapons, ranging from Odin's spear, Gungnir, Thor's hammer, Mjolnir, to the magical King Arthur's sword, Excalibur. These are the ones that are quite tricky to obtain. But there are also some of AC Valhalla legendary weapons that are relatively easier to find.
Here, we are going to focus on Gungnir, Mjolnir, and Excalibur. Meanwhile, for the other weapons, we are just going to explain them briefly.
SPOILER ALERT!
You have been warned. Proceed with caution!
---
Gungnir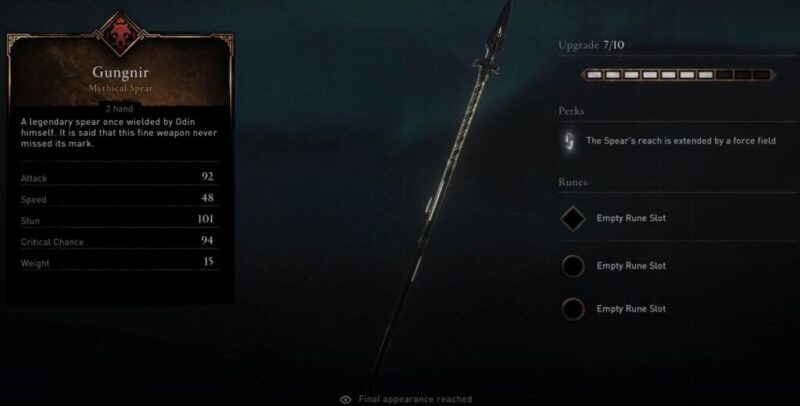 Odin's spear, or it goes by the name of Gungnir, is the main weapon of the Norse pantheon's head honcho, Odin. He's also known as the Old One-Eye. Simply put, Gungnir is godlike. From its perks to its stats, it's just OP bois. Gungnir's perk is that this spear can extend its reach by using a so-called force field.
Okay, so how to obtain this thing? First, you have to complete the main story quest, including the England story quest. Then, to get this spear, go back to Norway, Hoirdafylke. This is a Power Level 280 area, but there will be no fighting involved. So, don't worry if you haven't reached the Power Level yet.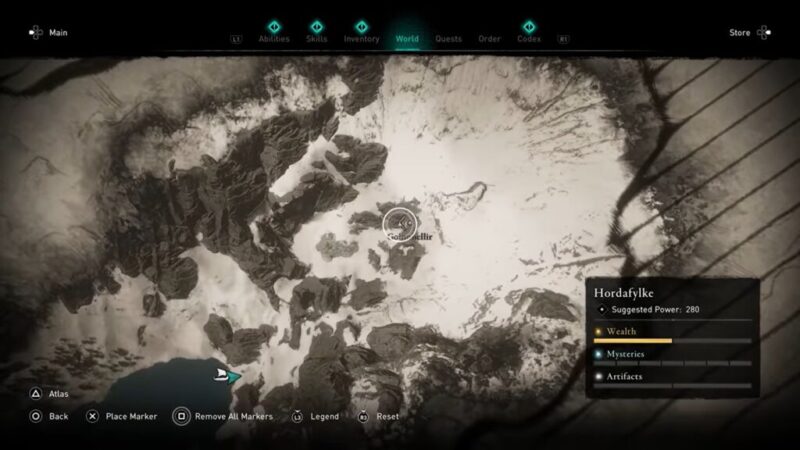 Go to Goinnhellir Cave. Once you enter the cave, break the ice wall, and continue forward. You will see the door that leads you into the Temple during the main quest earlier. Then, you will see the glowing light of Odin's Spear.
Anyway, this is exactly the same spear that Odin used to fight you earlier during the main quest. Pull the spear out, and it's yours. Check this video if you want a walkthrough.
---
Mjolnir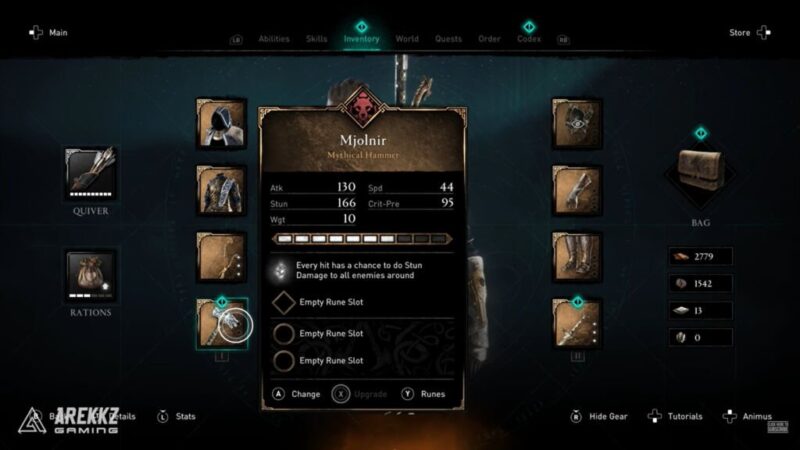 The good ol' Mjolnir, Thor's beloved hammer. As it was a weapon of a god, no wonder it's OP af. The perk is that you have a chance to stun the enemy on every hit and deal area damage. Not to mention its incredible stats.
So, to get this, one of AC Valhalla legendary weapons, you have to prove yourself worthy to Thor by collecting his armor set first. I'll briefly explain how to obtain those armor set as well. Let's get started.
First, you'll need to get Thor's Breeches. To obtain that, you got to beat the first daughter of Lerion, Goneril in Spalda Fens, Grantebridgescire (Suggested Power Level 90). Thor's Breeches aside, you'll also obtain a dagger. You'll need these daggers to get access to Thor's Helmet later. There are 3 daggers in total.
Next, go get Thor's Battle Plate. You get this by beating Regan, the second daughter of Lerion in Walsham Crag, East Anglia (Suggested Power Level 110). You will also get your second dagger here.
Moving on, beat the third child, Cordelia, in Berkelow Bog (Suggested Power Level 340) to obtain Thor's Gauntlets. Then, you'll also get the third dagger. These 3 daggers reside in East Anglia, so you don't really need to travel far to collect them.
To obtain the fourth piece that is Thor's Helmet, you need to find it in a cave near an empty house next to a stone temple in East Anglia, south of the Yare River bridge. Follow the cave and insert the 3 daggers to a statue to get your Thor's Helmet.
For the last piece, Thor's Cloak, you need to work extra hard. To obtain the cloak, you must kill 45 members of the Orders of The Ancients as well as 15 Zealots and 30 Inner Circle members. After this, the Hidden One's Bureau will reward the player with Thor's Cloak.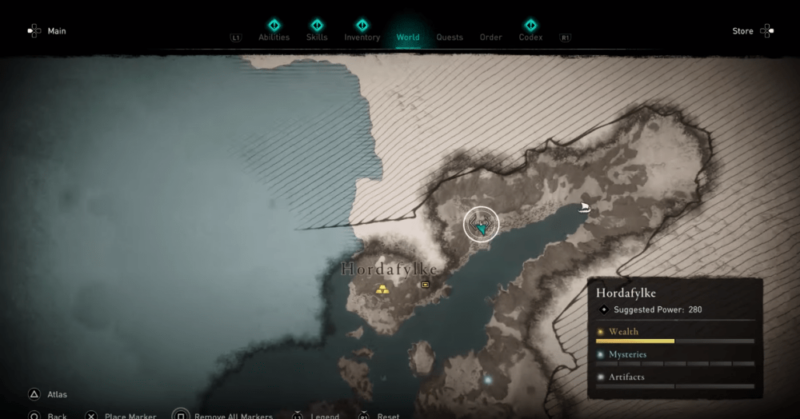 Got all 5 pieces? Now we are good to go. Let's get that Mjolnir. Go to a secluded spot in Hordafylke to pick up the Mjolnir. You don't need to fight anything here, don't worry. Just follow the trail and pick up the hammer, and you're done.
---
Excalibur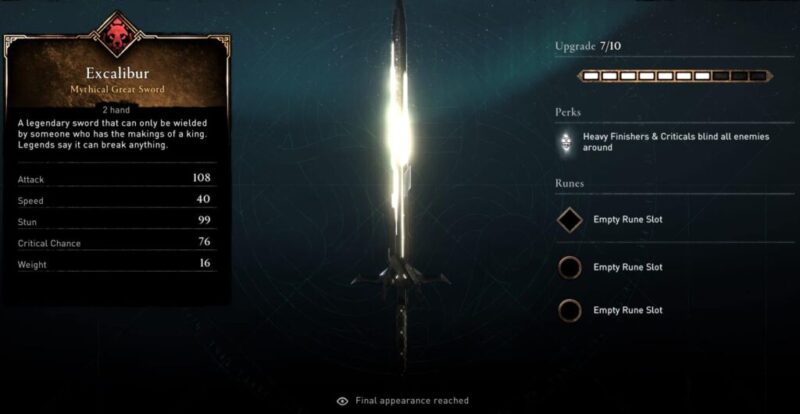 Now, ride with me to find the Excalibur Sword for AC Valhalla legendary weapons. Excalibur is a mythical great sword. Its perks is to blind all enemies around after you perform Heavy Finishers or land a critical hit. Do I need to mention that it's also OP?
To find the Excalibur, you need to find all of the Treasures of Britain locations and collect the tablet from each one of them. Then, head to Myrddin's Cave in Hamtunscire and fill in the pillars in a familiar-looking vault with all the tablets to get your prize, the Excalibur Great Sword.
Here is a list of the Treasure of Britain, and where to find them.
Grimes Graves, East Anglia
Santlache Mine, Suthsexe
Cavern of Trials, Cent
Old Cellar, Essexe
Wiccan's Cave, Eurvicscire
Deoraby Spar Cavern, Snotinghamscire
Red Lichen Cavern, Hamtunscire
Zealot, Hrothgar, Suthsexe
Zealot, Heike, Essexe
Zealot, Woden, Cent
Wocig, Hamtunscire
Mournful Cry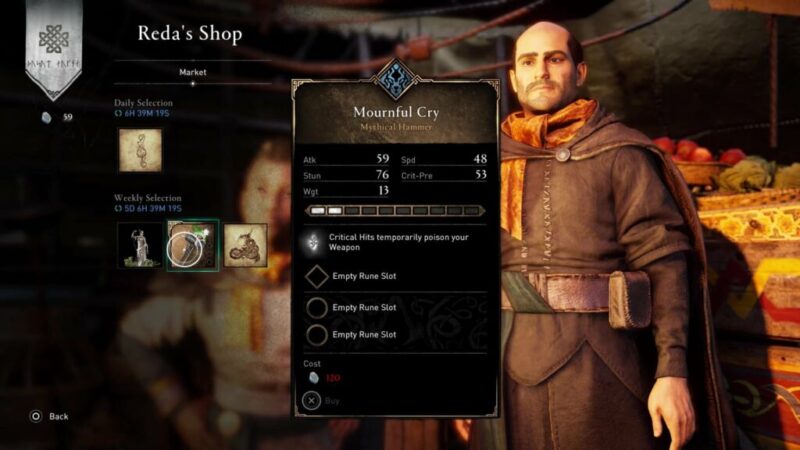 Mournful Cry is a mythical/legendary hammer in AC Valhalla. What makes this weapon special is that it inflicts poison on critical hits. Mournful Cry can be purchased from Reda's Shop. The hammer is unlocked as part of the Thousand Eyes quest. It appears randomly, so be sure to check frequently and have 120 silver for it or else.
Carolingian Pike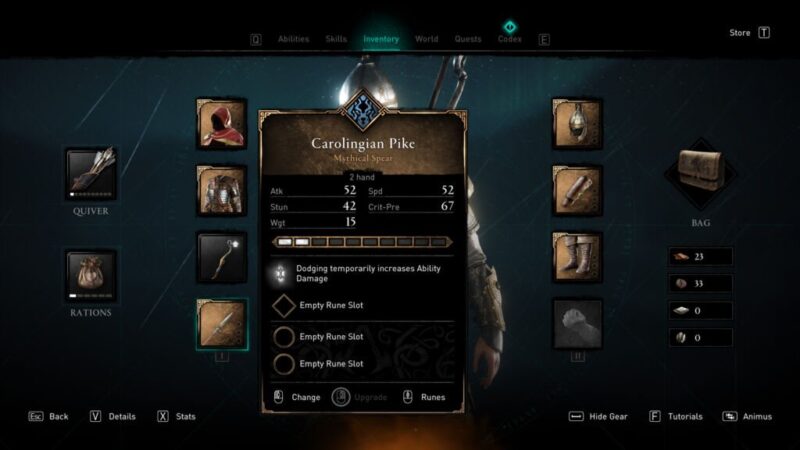 Carolingian Pike is a mythical spear. Its perk is pretty simple; dodging will temporarily increase ability damage. You can only obtain this spear by subscribing to Amazon Prime Gaming. Not just the spear, you can also get the Carolingian Dynasty armor set, Carolingian Shield, some skins.
---
Okay, that's all folks, now go get your AC Valhalla legendary weapons! Oho, you get your gears all sorted out? You can complete Asgard Quests and some trivial Side Quests. Find the guide here, you will also get a guide to all AC Valhalla choices and its consequences.