A few days ago, there was a very troublesome flood occurring, especially for the Greater Jakarta and Jababeka areas, Indonesia. However, even though he was hit by a flood, this father still managed to crash through the flood to take his PS5, which he had previously pre-ordered, but could not be delivered because of the flood. In the end, he himself picked up the PS5 so that his daughter could play the Genshin Impact game.
This father is a Tech Reviewer named Wasa Wirman, who is quite well known on the internet, especially on YouTube, because his content is related to item reviews. Maybe, because he was tired of reviewing various items, now Wasa is making a vlog about his unique experience through the flood from his residence to pick up the PS5 that he had previously purchased through the Gandaria City area, South Jakarta.
VIDEO: This Father Through the Flood to Take PS5
Besides, Wasa himself admitted that he was willing to go through the flood to take PS5 for his daughter, who really wanted to play Genshin Impact on PS5. In fact, because his daughter was too excited, they even unboxed the PS5 at the shop where they bought it.
As seen in the photo below, Wasa's daughter named Zee immediately played the Crash Bandicoot game on the PS5 Blu-Ray Edition. Wasa said his daughter was very happy when she could play games on the PS5.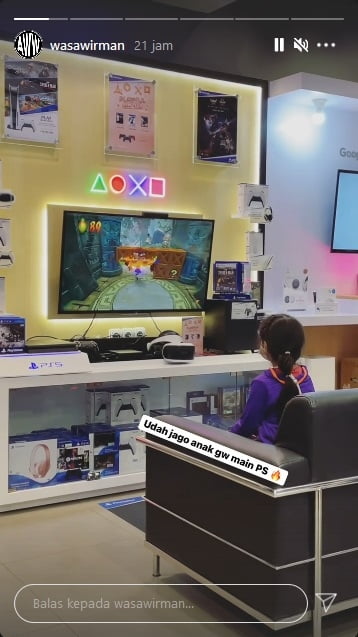 Interestingly, after finishing trying PS5, Wasa had to carry his child along with PS5 and went through a flood that was deep enough to be as high as an adult's thigh to return to his apartment.
Many people say that this is for content only. However, Wasa rejected this opinion because he said this was indeed for his daughter, who really wanted to play Mihoyo's game, namely Genshin Impact on PS5.