As we know, Titanfall 2 is a game made by Respawn Entertainment that is currently released and can be played on various platforms, for example, Playstation 4, Xbox One, and Microsoft Windows. This game is the ancestor of Apex Legends, which is currently being hotly discussed because of Season 9.
\Apex Legends is currently very busy with players, but unfortunately, they are not engaging with Titanfall 2. Because this game is now rarely played by people, even though there are still pro players in it. To show their support for Titanfall 2, the players of this game plan to return to play the game simultaneously next month.
I don't know if Apex Legends game players also participated in this plan. However, what is certain is that many fans hope that Apex Legends players will also participate to show concern for the game's ancestors.
On the other hand, I myself believe that there are certainly Apex Legends players who will participate in this plan. But, unfortunately, Titanfall is not as simple as Apex Legends. So, it looks like these players will be a little confused later.
Titanfall2 BT-7274 Protocol 4
Through this subreddits post, fans have issued a clarion call known as BT-7274. In the announcement, the fan said the players followed protocol 4 and returned to the game. The players looking at the subreddits seemed intrigued by this idea.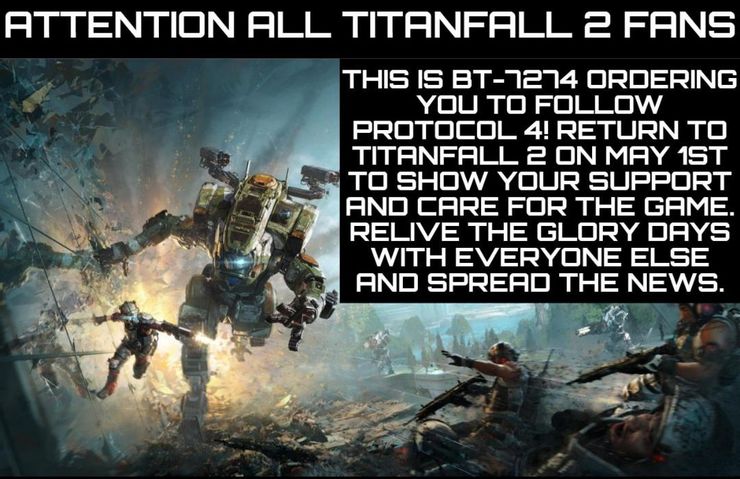 Currently, the players' idea of ​​returning to the Titanfall 2 game has garnered thousands of positive votes from fans. So, this will certainly be a very exciting thing because Titanfall 2 will return to a game played by many people.
What's more, Respawn Entertainment is also working on Titanfall 3 right now. That means the plan to return to the Titanfall 2 game is perfect. Because, with Titanfall 3, of course, the fans will be happy. To make their abilities even better, playing Titanfall 2 before Titanfall 3 releases is a good plan as the release of Titanfall 3 will surprise and delight many fans.