Comic-Con@Home has announced a panel for the upcoming Bill & Ted Face the Music, the third installment in the Keanu Reeves comedy trilogy. Usually the biggest annual media and comic convention, San Diego Comic-Con was canceled due to the pandemic, announcing a digital event in its place for 2020. 
San Diego Comic-Con@Home runs from July 22-26 and will be free to view. Scheduling information has not been announced.
The Wild Stallion Will Make SDCC at Home More Excellent
According to Deadline, the panel will feature stars Alex Winter and Keanu Reeves who play the ostensible time-traveling members of the band Wyld Stallyns, who have remained best friends since high school.
As well as actors Samara Weaving (Ready or Not), Brigette Lundy-Paine (Atypical), and William Sadler (Die Hard 2). The panel will also feature director Dean Parisot and writers Ed Solomon and Chris Matheson. The panel will be moderated by writer/director and Comic-Con fixture Kevin Smith.
About The Third Flick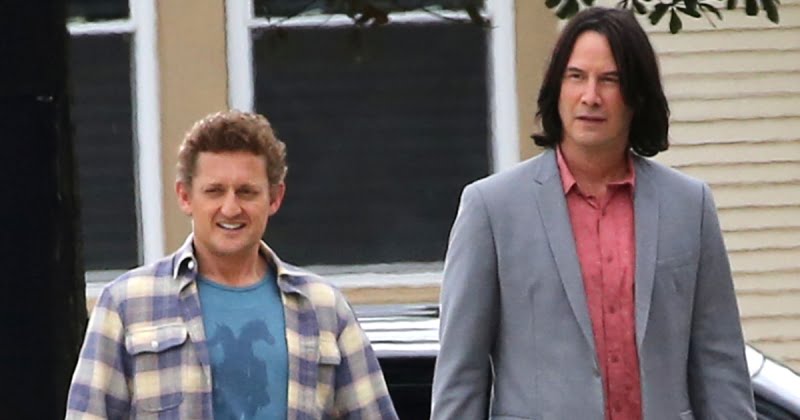 The latest Bill & Ted installment from Orion Pictures comes over 30 years after the first two films and continues the adventures of William "Bill" S. Preston Esq. (Winters) and Theodore "Ted" Logan (Reeves).
The now middle-aged best friends embark on a new adventure after being warned they must create a song in 78 minutes that will save all life on Earth and in the entire universe. The pair work with their families, old friends, famous musicians, and each other to try and complete the task.
The movie also features Erinn Hayes, Jayma Mays, Kristen Schaal, Holland Taylor, Kid Cudi, Anthony Carrigan, Jillian Bell, Beck Bennett, Amy Stoch, and Hal Landon Jr. Fans of the original series however will miss the future citizen Rufus, played by the late George Carlin, who was originally tasked with keeping Bill & Ted on their path to greatness. Bill & Ted Face the Music will be released in August.
So now, what do you all think with this very excellent news guya?