You can find many food items provided by developers in Valheim. To survive in this game, consuming mushrooms are the right choice. You can get this item easily at the beginning of the game. But for those of you who don't know, we will provide a tutorial on how to get a Mushroom in Valheim.
What is Valheim Mushroom?
This is a food item found in Valheim. You can eat it straight away without cooking it. You will receive 15 max health and 20 max stamina. Or you can mix it with several ingredients for a dish that has a better effect.
Crafting:
How to Get Mushroom in Valheim
Similar to raspberries, you can find mushrooms easily in this game. The fungus grows on the soil in the Meadows and Black Forest biomes. We don't know the exact area this fungus grows so getting around in the Meadows area is the best way.
You don't need equipment that is too good too take this item. Just rely on Spear and Shield. You can survive while looking for mushrooms. If you are just at the beginning of the game, don't enter the Black Forest biome yet because there will be a chance to meet Trolls or other monsters.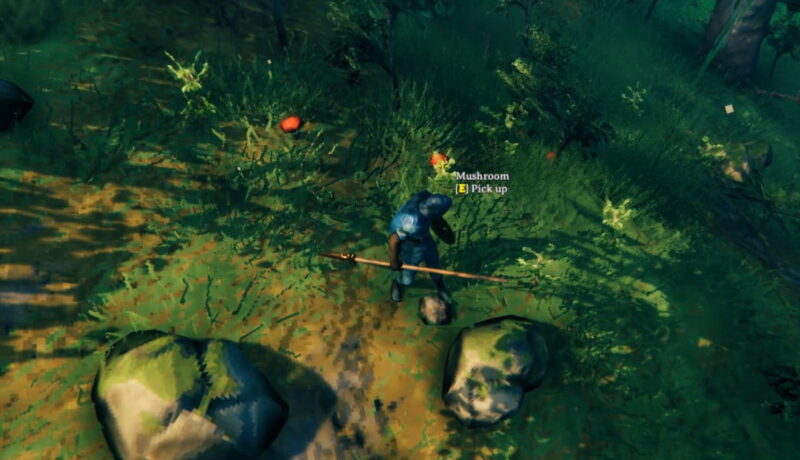 Usually, Valheim Mushroom grows in groups, aka more than one in one place. So you will be faster collecting mushrooms. Press the [E] key to pick up the mushroom, then walk through it to add it to your inventory.
Later, you will also find the yellow mushroom in the burial chambers. Of course, the item is more superior to this one.
Well, that's how to get Mushroom in Valheim. We will give you more information about Valheim Food. So, stay tuned to our website, and don't forget to comment below.