Rainbow Six Siege is an FPS game developed by Ubisoft Montreal. As of this writing, this game which was out in 2015 is the most popular FPS game with remarkably great graphics and gameplay. This game is available for PC and consoles like PS4 and Xbox One. You can play it online or offline. Rainbow Six Siege offers several game modes like Situations, Multiplayer, and Terrorist Hunt.
In the Multiplayer mode, you can play Rainbow Six Siege online in 5 vs 5 casual or ranked matches. But first, you have to reach level 20 to play the ranked match, so you have to practice.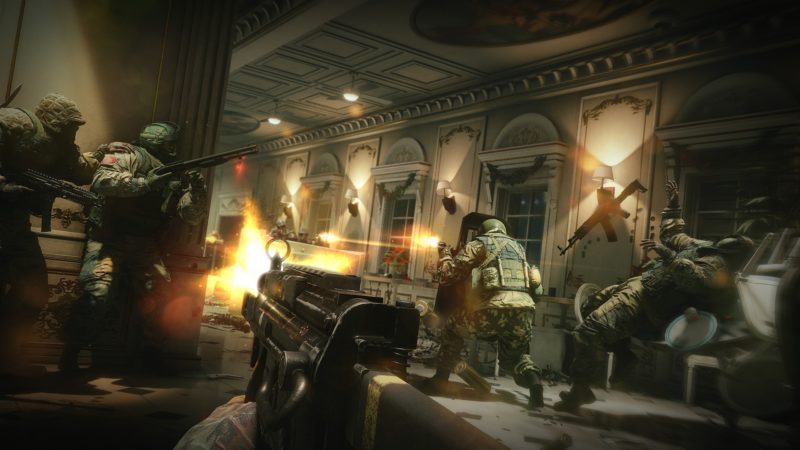 1. Watch Tutorial Videos
If you are new to the game, at least you have to watch some tutorial videos. They will introduce you to the mechanics of the game. And you must play the Situations mode too, as it teaches you the controls, basics, maps, and gadgets in Rainbow Six Siege. The maps in this mode are not different from the Multiplayer mode. So by playing Situations mode, you will get used to the online matches too.
2. Play With AI First
Before you jump to Multiplayer mode, you can try the Terrorist Hunt first. In this mode, you can practice the game with AI. So you can get used to the bots first before you meet real players which are likely more skilled than you.
3. Play Rainbow Six Siege With Friends In Custom Mode
Before you play casual matches and meet other random players, it's better to practice first with your friends. This way, you can easily explore the game together. So you can try many tricks and strategies with your friends without being bothered by other players.
4. Know The Maps In Rainbow Six Siege
Before you play in Multiplayer mode, surely you have to know the maps. Because the maps are different, and it requires proper strategies and tactics. If you have the knowledge of every map, you can win the game easier.
5. Focus On Surrounding Movements And Sounds
Enemies' movements and sounds are crucial in Rainbow Six Siege. Detailed focus of the environment and sounds like footsteps or reloads is the key to survive in the game. Even slight sounds like crouching or slow walk will clearly be heard by nearby enemies. So make sure to move in silence.
6. Take Cover Behind Walls And Barricades
Try to always peak while leaning to a wall to see enemies behind it. That way, it will be harder for them to spot you. And it's an advantage for you to fire from your cover.
7. Don't Reload Recklessly In Rainbow Six Siege
It's worst if you have to meet an unexpected enemy while reloading your empty magazine. If that happens, run to cancel the reload. And keep a secondary weapon for this kind of event.
8. Ask For Help
Don't hesitate to ask for teammates' help, as Rainbow Six Siege requires teamwork. If the enemies surround you, try to wait for backup. Move together with your friends to avoid group attacks easier.
That's all for the 8 tips to practice Rainbow Six Siege effectively. It doesn't matter if you are a beginner. Practicing hard will absolutely improve your skill in the game. Let's practice together to be the best Rainbow Six Siege player.