miHoYo is preparing to introduce a new update for Genshin Impact 2.7. In this new update, there will be new characters, rewards, and much more. For that, we will give you detailed information that can help you to know more about Genshin Impact new update.
Most of the leaks for the Genshin Impact 2.7 update are focused on the new characters, with more information to come in the next few weeks. Here is information about the Genshin Impact 2.7 leaks you need to know.
Genshin Impact 2.7 Release Date Delayed
Previously, Genshin Impact 2.7 was planned to be released on May 11, 2022. But due to project progress, the version 2.7 update has to be postponed and confirmed will come on June 8, 2022.
miHoYo didn't give a specific reason why Genshin Impact 2.7 delay, but players believe this is due to COVID-19 restrictions in Shanghai, China.
Genshin Impact Compensation For Update Delayed
As we know, Genshin Impact generally releases an update or the latest version every 6 weeks. During this period, Genshin Impact will get the latest updates and upgrades. However, it is different from Genshin Impact 2.7 which should be able to be played now.
Unfortunately, the Genshin Impact 2.7 update had to be delayed. According to Genshin Impact, version 2.7 has been delayed due to the progress of the project.
As compensation for the delay in updating, miHoYo will provide rewards that can be claimed to start today (11 May 2022) and will continue to be given every Wednesday until the Genshin Impact 2.7 update is released.
Here are the Genshin Impact 2.7 compensation rewards that you can claim: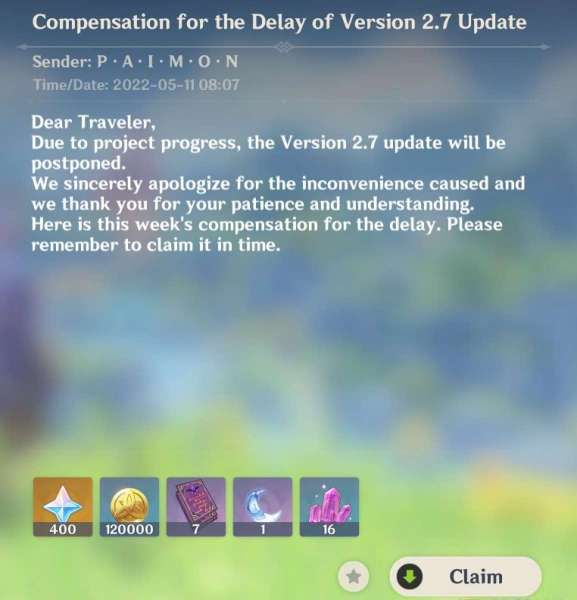 Primogem x400
Fragile Resin x1
Hero's Wit x7
Mystic Enhancement
Ore x16
Mora x120.000
Genshin Impact 2.6 Extra Events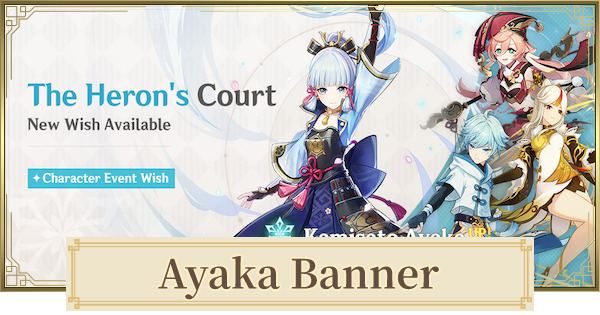 Not only give compensation, but miHoYo has also added extra events in Genshin Impact 2.6 while waiting for version 2.7, here is the list of extra events:
Ayaka's Wish banner and the Weapon banner will be around a bit longer, probably until Genshin Impact 2.7 release.
The same goes for the Test Run event featuring Ayaka, Razor, Sayu, and Rosaria.
New event: Spices From the West. It's a cooking event that will take place between May 14 and June 7.
New event: Overflowing Mastery. You can receive double the rewards from Talent-Material Dungeons up to three times a day. This event starts on May 22 and ends on May 29.
Genshin Impact New Characters That Will Be Released in Version 2.7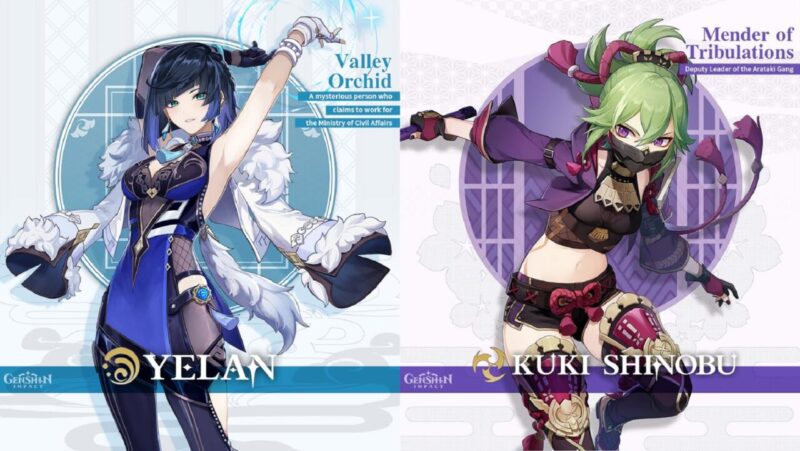 In Genshin Impact 2.7, there will be 2 new characters that are Yelan (5 Stars Character) and Kuki (a Free 4 Stars Character).
Yelan is a Hydro element character that comes from Liyue. He claimed that he worked under the civil affairs ministry in Liyue. It is still unknown what weapon Yelan will use, but maybe she will use the Bow weapon type based on the leaked wallpaper.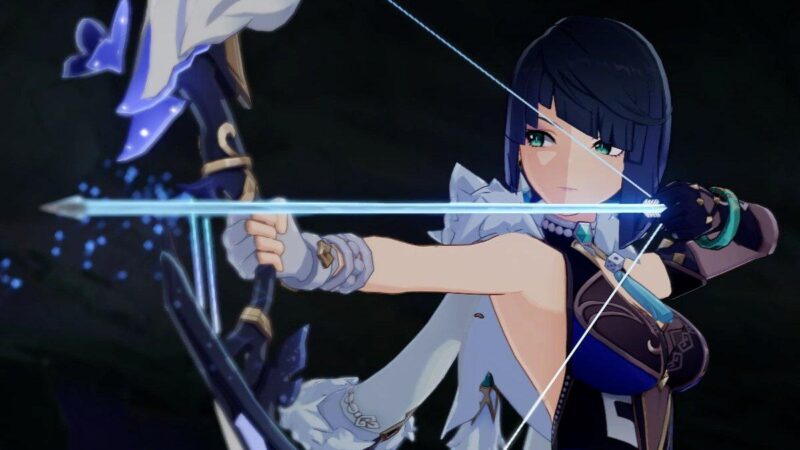 Kuki Shinobu is the Electro element character from Inazuma. He is the second new Electro character after Kujou Sara. Just like Yelan, Kuki Shinobu is also still unknown what weapon she will use and there is still no information about his rarity.
---
So that's all the information about Genshin Impact 2.7 release date we can give to you. If there are questions or other things that you want to tell, you can write them in the comments below.