In the NieR Replicant game developed by Cavia, there is a side quest called The Missing Girl. To handle this task, the players need quite a complicated thought.
So, to make the players complete the mission easier, Wowkia here will tell you a guide for the mission of The Missing Girl. Hopefully, you will understand and get more interested in playing the NieR Replicant game with this guide.
NieR Replicant The Missing Girl Guide
For the "The Missing Girl" side quest, players first need to take the mission to the masked man in the Facade, which is located in the northwest corner and a little bit in the main Strange Things shop. So that you better understand where he is, you should see the image below.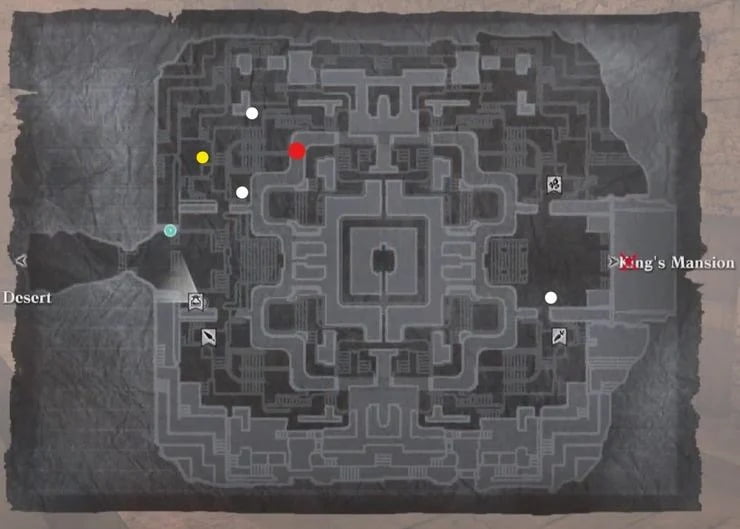 As you can see above, the NPC with the yellow dot is the masked person. Once you get there, talk to him, and later, he will ask the players to help him find his daughter, who is wearing a gold ring. After that, you only need to talk to other people on the Facade, which are marked with a white dot above. For more details, you can follow the directions below.
First, players will need to speak three NPCs, marked with white dots on the map above. Specifically, the NPCs are located outside of the King's Mansion. Which are one near the Strange-Things shop and one on a roof near the shop.
Once all of the NPCs have been spoken to, the NieR Replicant player needs to navigate to the lowest level of the town to find a bloodstain, once more, near the Strange-Things shop. On the map above, the bloodstain is marked with a red dot, which players should examine.
From where the bloodstain is, players need to make a 180. In the distance, there should be a Treasury Guard with a speech bubble above his head. Then, make him available for players to speak with. He'll send players over to the entrance gate to speak with another guard.
At the entrance gate, the guard will reveal crucial details about the NieR Replicant NPC. This information will direct players to a sandspout well outside of the Facade. Heading into the desert, players should navigate towards the sandspout closest to the town.
Finally, players will return to the girl's family to inform them of the news. In exchange, the quest completes and grants 10,000 gold as a reward.